Need to find the Best SNMP Monitoring Software for your networks, servers, desktops, laptops and networking devices? Then you've come to the right place… We've compiled a exhaustive list of the top tools, software suites and utilities to help you make an informed decision!
A network admin's job is complex, to say the least, as it involves Monitoring Networks, identifying devices, protecting the network from inside and outside attacks and so much more.
Fortunately, tools that utilize SNMP monitoring ease this pressure and help to increase productivity.
SNMP is an acronym for Simple Network Monitoring Protocol, and as the name suggests, it is an Internet standard for monitoring the hardware and software of all SNMP-enabled devices.
Most leading device manufacturers today create devices that are SNMP-enabled because it is easy to monitor them.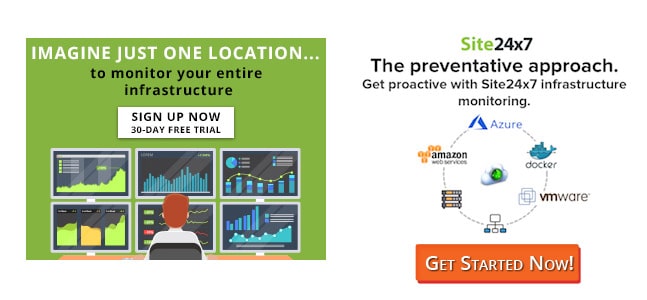 Typically, all SNMP monitoring tools poll a SNMP-enabled device at frequent intervals to extract critical information from it, based on which, a network admin can take proactive measures to identify and fix problems.
At the same time, it is also sure to boost availability and performance, as issues will be fixed even before they start impacting the network.
Here's the Best SNMP Monitoring Tools & Software of 2020:
The market is flooded with SNMP Monitoring tools, but here is a look into some of the best ones.
1. SolarWinds Network Performance Monitor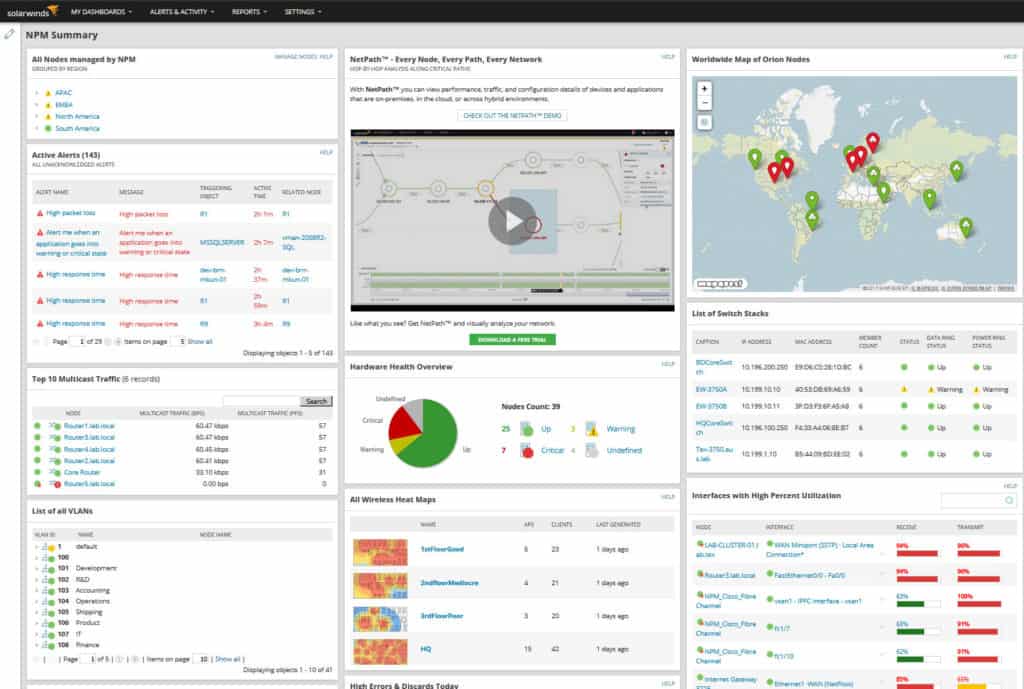 SolarWinds, one of the leaders in the area of networking monitoring, offers a dynamic SNMP Monitoring software that's a part of a larger suite called Network Performance Monitor.
Some of its salient features include,
Automatically discovers devices on the network.
Helps users to map the network topology
Constantly monitors the devices' faults, availability and vulnerability.
Has the ability to measure the performance of Cisco ASA devices, besides the products of other top device manufacturers such as HP and Dell.
Supports SNMP version 2 and version 3.
Besides these features, SolarWinds offers a tool called SNMP Enabler for Windows. This free tool allows users to install, configure and manage SNMP monitoring remotely on any number of devices.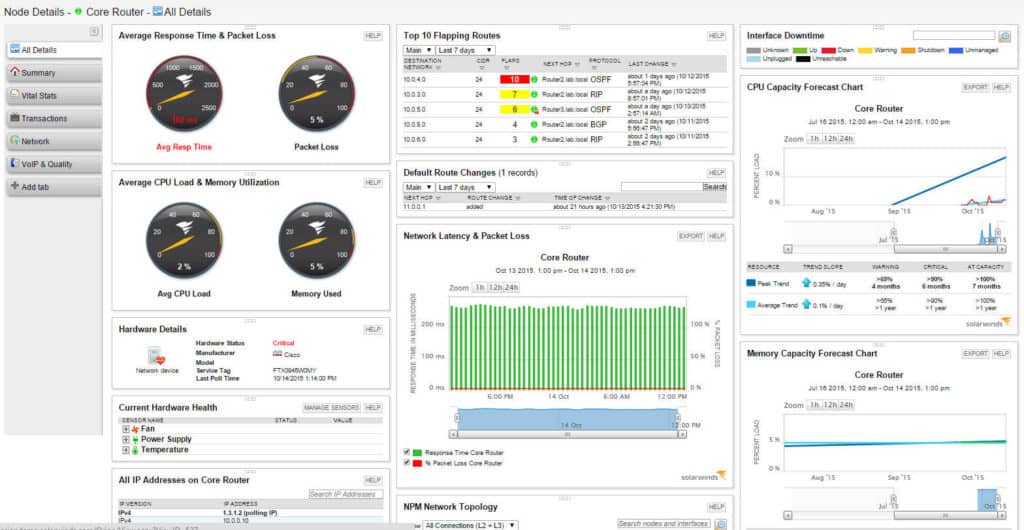 Price:
Free 30 Day Free Trial!
Official Download:
https://www.solarwinds.com/network-performance-monitor/registration
2. ManageEngine OpManager
ManageEngine's OpManager software offers powerful capabilities in an easy-to-use interface. Also, it supports all major hardware and software products available in the market today.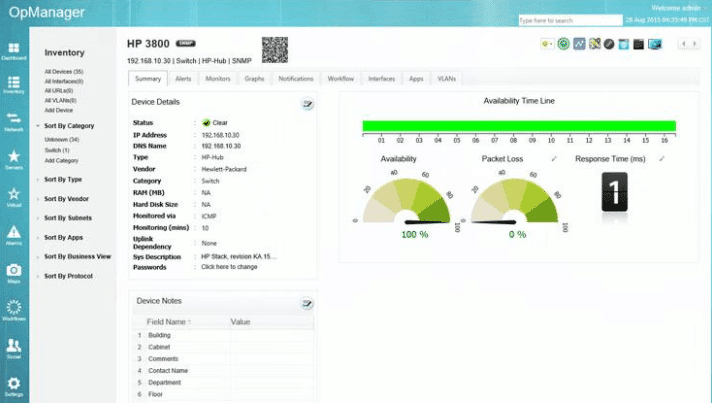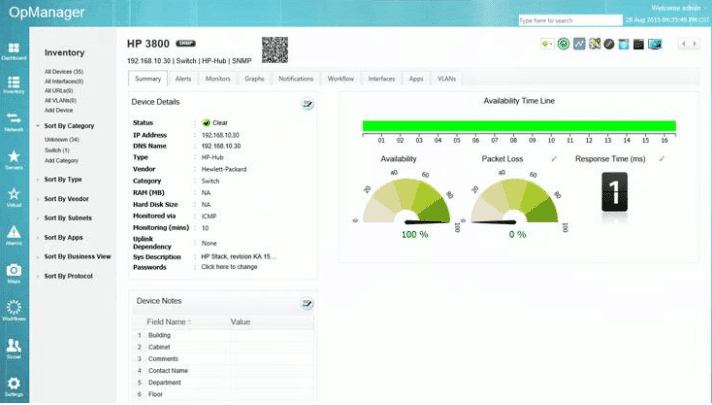 Important features of ManageEngine's SNMP analysis tool includes:
It supports SNMP versions 1 and 2.
Allows administrators to monitory any number of SNMP-enabled devices.
It is easy to use, as users only have to load a MIB file and enter the OID of a SNMP device, for the software to start monitoring.
Dashboards and reports give a visual view of the data.
Users can set alarms, thresholds and notifications to get notified when a problem occurs.
It can collect data from any SNMP device
Supports SNMP table and SNMP scalar objects
It can also monitor non-SNMP devices through ICMP, WMI and Telnet.
Email, SMS, SNMP traps and custom scripts are the options available for sending notifications.
It's a part of a large suite called OpManager, so users can extend the functionality at any time.
Other than these features, ManageEngine's OpManager suite can also be used as an SNMP trap receiver. This way, users have the choice to consolidate all the SNMP events in the network and make this monitoring tool a central console.
Price:
License starts at $945. It's best to contact the sales team for a precise quote.
Official Download:
https://www.manageengine.com/products/applications_manager/download.html
3. PRTG
PRTG from Paessler comes with many sensors, each of which monitors one measured value in the network such as the CPU load, availability of a device and more.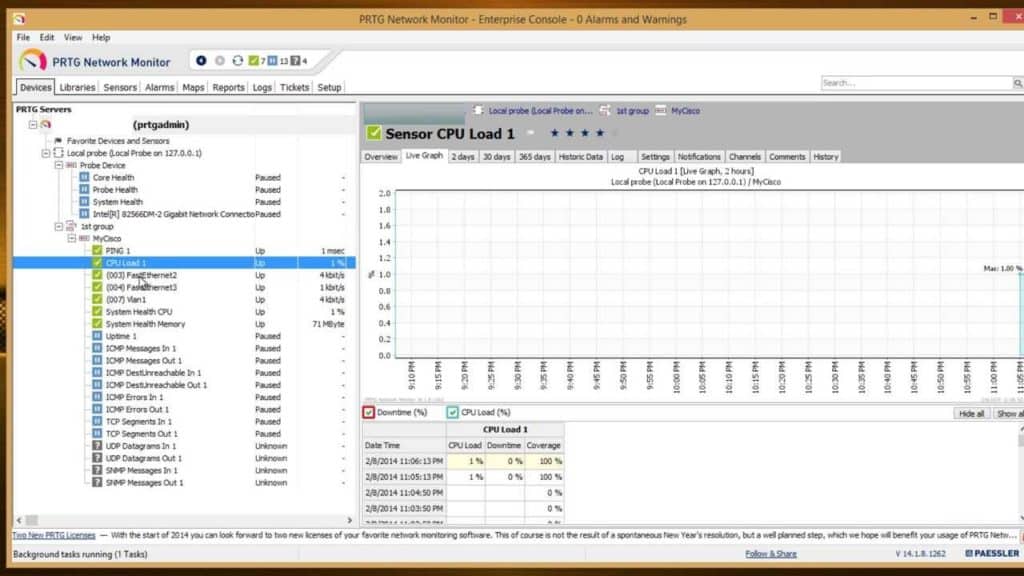 Here's the complete set of features from PRTG's SNMP monitoring tool.
Comes with a built-in alarm. Users can set the threshold limit and the notification method (email, SMS or push notification).
Includes a customizable notification system to meet the needs of every network.
Has many pre-configured SNMP sensors for device manufacturers such as Cisco, Juniper, HP, Dell and Synology.
Supports different SNMP versions, namely, SNMP V1, V2 and V3.
Offers support assistance round the clock. In fact, users can send log files to the support team to get a quick analysis and solution to the problem.
Has an auto-discovery feature that identifies all the devices switched on for SNMP monitoring.
Provides clear and easy-to-read charts to get a visual idea of a device's performance.
Requires only a minimum amount of bandwidth, so there's no additional strain on the network. Likewise, CPU load is also imperceptible.
Besides these advantages, PRTG's monitoring tool can also be used as SNMP traps, so the devices automatically send messages to the SNMP monitoring when any critical incident happens. This helps admin users to get to the issues and fix them fast.
Price:
The cost depends on the number of SNMP sensors used.
100 sensors – free
500 sensors – $1,600
1000 sensors – $2,850
2500 sensors – $5,950
5000 sensors – $10,500
A license called "XL1 unlimited" allows one single-core installation without any software limits on sensors, probes or users, while a license called "XL5 unlimited" supports up to five single-core installations.
Official Download:
https://www.paessler.com/download/prtg-download
4. Nagios XI
Nagios XI is a comprehensive SNMP solution that works well on any SNMP-enabled device.

Here are some of the advantages of using Nagios XI for SNMP monitoring.
It is easy to configure
Advanced reporting tools make it easy for users to understand the health of SNMP devices
Users can monitor and analyze SNMP data from anywhere
Helps users to stay on top of a device's availability and performance.
Quick detection of failures
Nagios XI can also be configured as an SNMP trap. Users can define the conditions for creating a trap and set the thresholds for sending these traps to other hosts.
Likewise, Nagios XI can be configured to receive and process SNMP traps from other external devices.
Price:
Contact the sales team for pricing details.
Official Download:
https://www.nagios.com/downloads/
5. WhatsUp Gold
WhatsUp Gold from IpSwitch is another good choice for keep track of SNMP enabled-devices. This is a flexible and complete monitoring tool that can be customized to meet the unique needs of every user.
Its features are:
Provides status and performance information for network devices, storage and servers, located both in the cloud and on-premise.
An intuitive interface helps to proactively monitor different devices and the network traffic.
It automatically discovers devices and maps the entire network.
Users can set the threshold for notifications. These thresholds are wide-ranging and include many out-of-the-box options as well.
Automated action policies can be defined for certain events.
Notifications are available through email, SMS, web alarms, Slack alerts and service restarts.
Dashboard gives a comprehensive information about the health and status of every SNMP device.
Dashboards can be customized to streamline troubleshooting.
Reports can be scheduled or exported to the entire team at pre-determined intervals.
Supports SNMP traps and built-in scripts for SNMP devices.
Comes with real-time performance updates
Price:
Contact the sales team for pricing
Official Download:
https://www.ipswitch.com/forms/free-trials/whatsup-gold

Conclusion
In short, SNMP monitoring is essential to know the health and performance of SNMP-enabled devices. The above discussed monitoring tools go a long way in helping users to proactively monitor devices and address problems even before they occur. The customizable threshold settings and notification options report a problem as soon as it occurs, so the fix can be done right away.
Due to these reasons, SNMP Monitoring tools should be an integral part of every IT admin's arsenal. We highly suggest you download one of the Solutions we've listed above and get started monitoring your infrastructure and SNMP-Enabled Devices to get a better understanding of whats going on in your network at all times!