Windows Patch management is an important and yet monotonous task for system admins as they have to constantly stay on top of updates and patches, download, and install them.
Microsoft eases this process to some extent with its Windows Server Update Services (WSUS).
Earlier known as Software Update Services, this is a network service that helps administrators to manage the distribution of updates released by Microsoft for a corporate environment.
The service automatically identifies updates when they are released and distributes them to the entire corporate network.
But just like any software, there is always a chance for WSUS to malfunction or Error out, and when this happens, your network becomes vulnerable.
In general, hackers find exploits to hack into your network and these patches race to close these vulnerabilities. When your WSUS stops working, you are unaware of it, and this opens the possibilities for an attack.
But rest assured, there is a solution! To avoid this situation, there are some valuable tools that will monitor WSUS to ensure that it is up and running at all times so you aren't left with any ugly surprises. 
Here's the Best WSUS Client Diagnostic Software & Tools:
SolarWinds Diagnostic tool for WSUS

Microsoft WSUS diagnostic tool

ManageEngine Patch Manager Plus

ADF Design WSUS tool for SpiceWorks

BatchPatch
Let's take a detailed look into each of these tools and software packages and see what each has to offer!

1. SolarWinds Diagnostic Tool for WSUS
SolarWinds diagnostic tool for WSUS is used to test WSUS connections and to ensure that they are up and running at all times.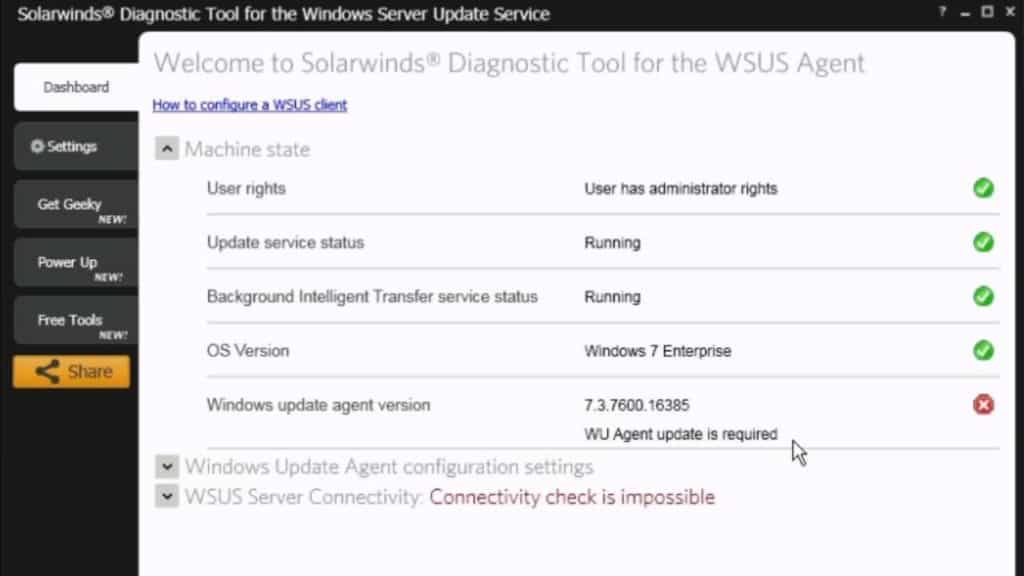 Features
Validates the important configuration values 

Tests connections to WSUS resources

Identifies the causes of failure

Stays on top of Windows Update Agent errors

Suggests appropriate solutions to repair errors.

Sends detailed reports

Sends notifications of failed updates

Performs centralized and automated software installations
Pricing
It is 100% FREE for LIFE!

Download
Click here to download this free tool. 
2. Microsoft WSUS Diagnostic Tool
Microsoft also understands the importance of its WSUS service and this is why it has come up with its own diagnostic tool that tests the health of WSUS.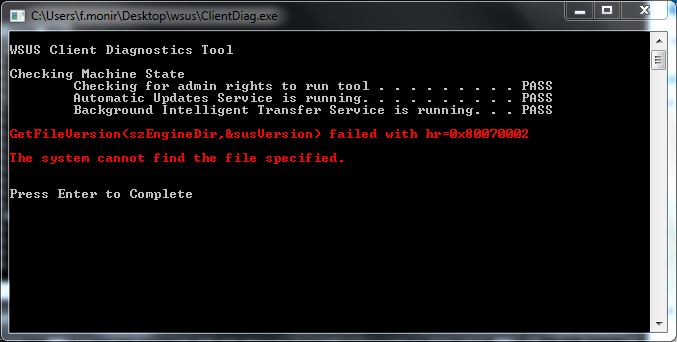 Features
Runs from the command line.

Since it runs on the client machine, you can visit each endpoint and install the executable file as opposed to doing it from a central location.

Tests the communication between the WSUS server and the client machine.

Supports Windows 2000 Server and Windows Server 2003.

Simple to install

No GUI and no product support is available for this tool.
Pricing
It is 100% FREE.
Download
Click here to download.
3. ManageEngine Patch Manager Plus
ManageEngine Patch Manager Plus is a comprehensive tool that handles all aspects of patch management including the monitoring of the WSUS service.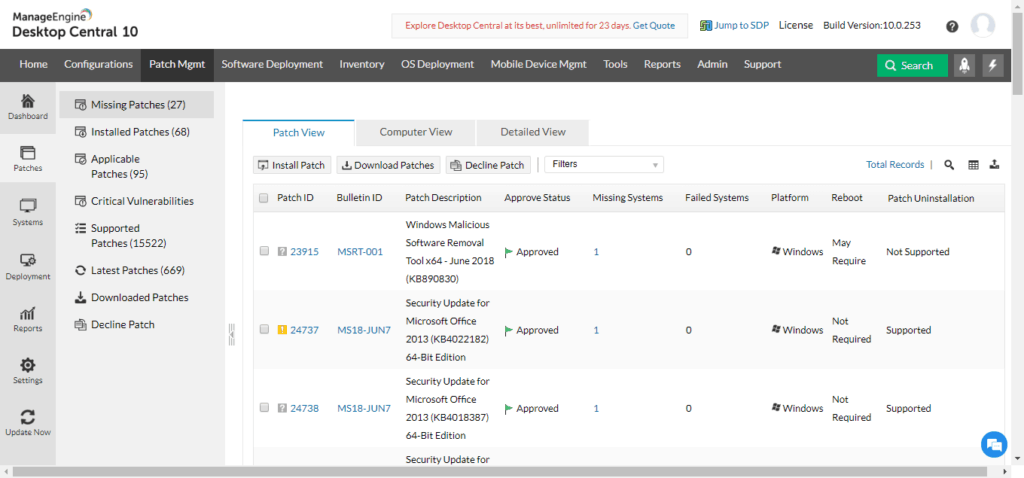 Features
Automates all phases of patch management

Presents insightful reports

Ensures 100% patch compliance status across all systems.

Creates test groups for deployment on production environments.

Manages and deploys patches to more than 250 third-party applications.

Offers cross-platform support.
Pricing
Contact the sales team for a custom quote.
Download
Click here to download a trial version.
4. ADF Design WSUS tool for Spiceworks
ADF Design's WSUS tool is a handy one for WSUS administrators who want to debug or manage their WSUS.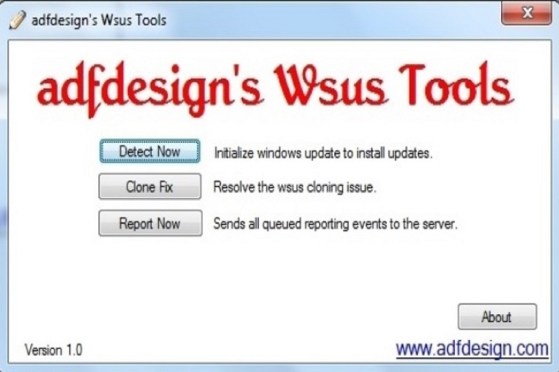 Features
All functions can be done through the command-line interface and Regedit

Makes it possible to work on machines with restricted accounts and a strict GPO

Ideal for anyone who wants to debug and manage WSUS

Source code is available and can be modified to meet your preferences
Pricing
It is FREE.
Download
Click here to download.
5. BatchPatch
BatchPatch is a Windows update tool that comes loaded with many useful features.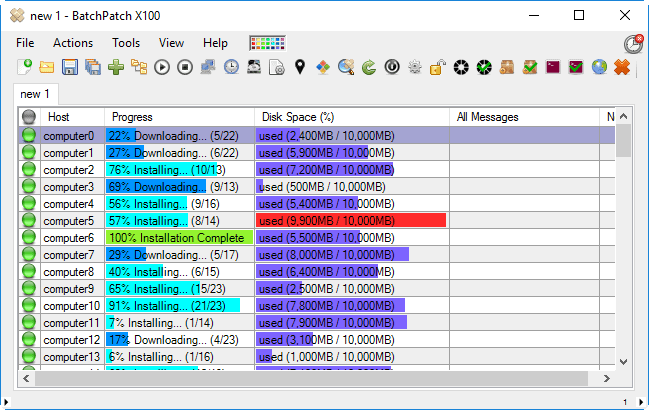 Features
Some of the salient features of BatchPatch are:
Installs Windows updates remotely across your entire network.

Saves a lot of time by patching and rebooting computers simultaneously.

Executes custom scripts on remote hosts

Monitors status in real-time

Retrieves Windows update history information at any time.

No remote agent installation is needed.

Terminates remote processes and retrieves logs from remote hosts.
Pricing
Cost depends on the number of users and the number of years of support.

Contact the sales team for more than 15 years. 
Download
Click here to download a trial version.
Conclusion about these Tools
To conclude, WSUS is a service from Microsoft that handles patch management for all Windows products. Since this WSUS service can stop working or encounter problems, it is important to have diagnostic tools that monitor this service to ensure that your network is protected at all times.
The above-mentioned tools are some of the best diagnostic tools for WSUS as they come with many useful features.