A network is an organization's critical resource as it plays an important role in enhancing productivity and profitability for the organization.
As an IT administrator, your job is to keep the organization's network up and running at all times and secure it in the best way possible.
But it is not easy, especially if you have to maintain a large network with thousands of devices connected to it and this is why you need good network diagnostic tools and software.
One such important tool is a network diagram. As the name suggests, this diagram is a blueprint of the network and gives you a complete picture of how the network is built, how many devices connect to it.
The different interconnections that exist between different networks, IP addresses, configuration parameters, and so much more.
Such detailed information will make it easy for you to identify problems and troubleshoot them at the earliest.
Network Topology & Diagrams
There are many tools available to create and update network diagrams, so can stay on top of your network's availability and functioning at all times, as well as knowing where each individual network device is physically located in your building/s.
Broadly speaking, there are two kinds of tools – ones that create the a network topology or diagrams for you and the other that gives you a digital canvas so you can create your own network diagram.
You can choose either of the two kinds of tools, depending on your requirements.
Some IT administrators prefer an automated tool as it takes a lot of work off their hands while others prefer to draw the diagram by themselves, so they can better understand its connections and functioning.
The first three tools mentioned below are automated ones while the next three provide a digital canvas and many convenient features to make it easy for you to create your own network diagram.
Here's the Best Network Topology Maps & Diagram Software:
Let's take a detailed look at each of these tools, along with some screenshots and where to download them.
1. SolarWinds Network Topology Mapper
SolarWinds Network Topology Mapper is a tool that automatically discovers new devices and connections in your network and maps the same to give you a comprehensive view of your network.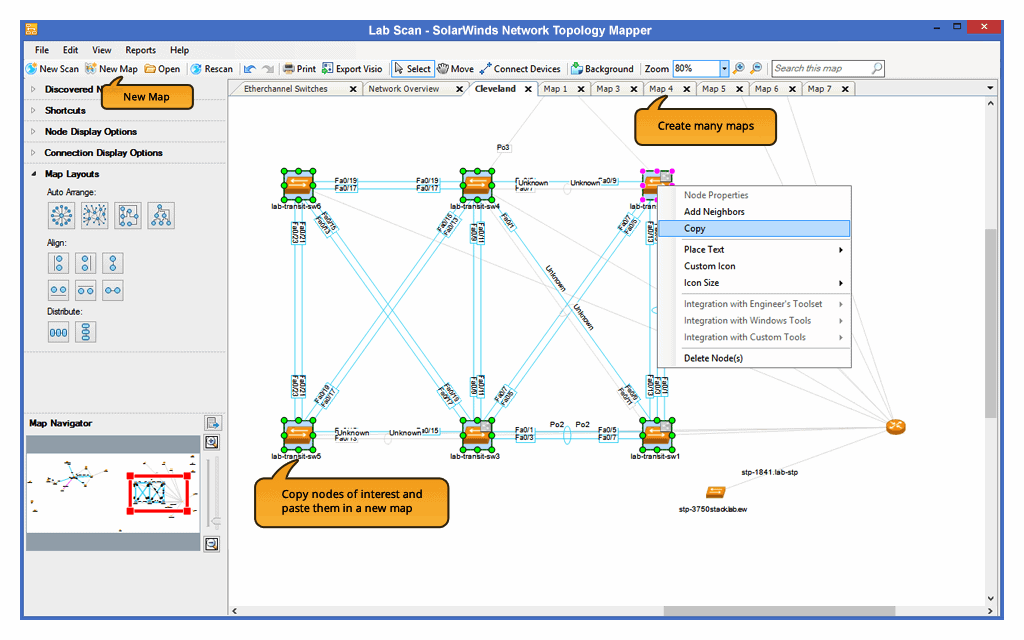 Features
The salient features of this tool are:
Automatically discovers new connections in your network and adds them to the network diagram. Performs multi-level network discovery as well.
Supports many delivery methods including SNMP v1 to v3, ICMP, WMI, Hyper-V, VMware, and more.
Exports network maps to Microsoft Visio, PDF, and PNG formats. You can also schedule exports to Orion Network Atlas.
Provides comprehensive reports on switch ports, VLANs, and subnets
Helps with the regulatory compliance requirements of many standards such as PCI, FIPS 140-2, and more.
Gives the flexibility to resize and move icons and the text around them.
Does a thorough network inventory management of all hardware assets.
Saves times, increases productivity and provides reliable data.
Pricing
SolarWinds Network Topology Manager is priced at $1,495.
Download
Click here to download a 14-day free trial.
2. NetProbe
NetProbe is a graphical network monitor or tracking tool that offers more than just network mapping. In fact, it is an intelligent tool that can monitor any devices attached to a network in real-time.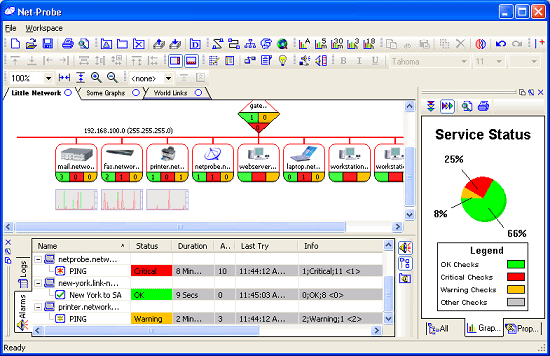 Features
The features of NetProbe are:
Monitors connected devices in real-time
Comes with a rich graphical interface that's available through a web browser as well as a dedicated application.
Alarms, trackers, and graphs can be integrated into the graphical layout.
Detects and maps network layouts through wizards. Alarms and graphs can be added through the wizards too.
Data for the diagram can be acquired in many ways such as SNMP, performance monitor, and scripts.
You can set actions that will be performed automatically by the system when an alarm goes off. These actions can include sending an email, restarting a service, and more.
An alert icon sits on your desktop and informs you of the status of items that are being monitored.
Many network tools such as traceroute, ping, and network scanner are included.
Pricing
There are four versions in NetProbe.
The Standard version supports only eight hosts and is free.
The Pro version supports 20 hosts and costs $40
The Deluxe version supports 45 hosts and costs $80
The Enterprise version supports 400 hosts and costs $295
Download
You can download the free version here.
3. InterMapper
InterMapper is a cross-platform networking mapping tool developed by a company called HelpSystems. It doubles up as a monitoring tool as well.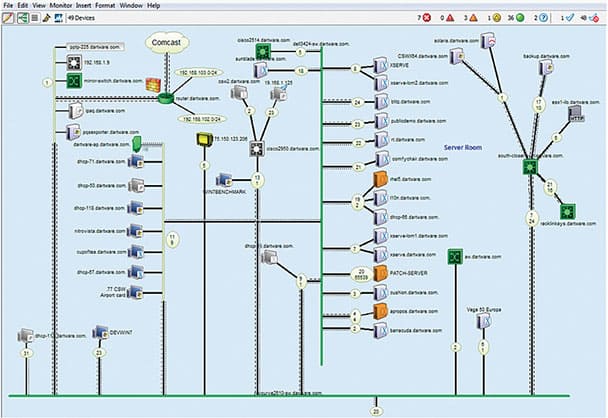 Features
The features of Intermapper are:
Discovers and maps all the devices and their connections of your physical and virtual networks.
You can customize the maps to meet your preferences and this includes changing the layout, customizing the icons, and more.
Comes with color coding and animation to show the real-time status of different devices.
You can see your entire environment in real-time
Easy to install, deploy, and use.
Works well on Windows, Linux, and Mac systems.
Pricing
Contact the sales team for a custom quote.
Download
Click here to download your free 30-day trial.
4. Microsoft Visio
Microsoft Visio is a diagram and graphics application that helps to create professional flowcharts, network diagrams, and business processes. It comes with a Detailed Network Diagram template to create a visual representation of how a device is connected logically and physically to a network.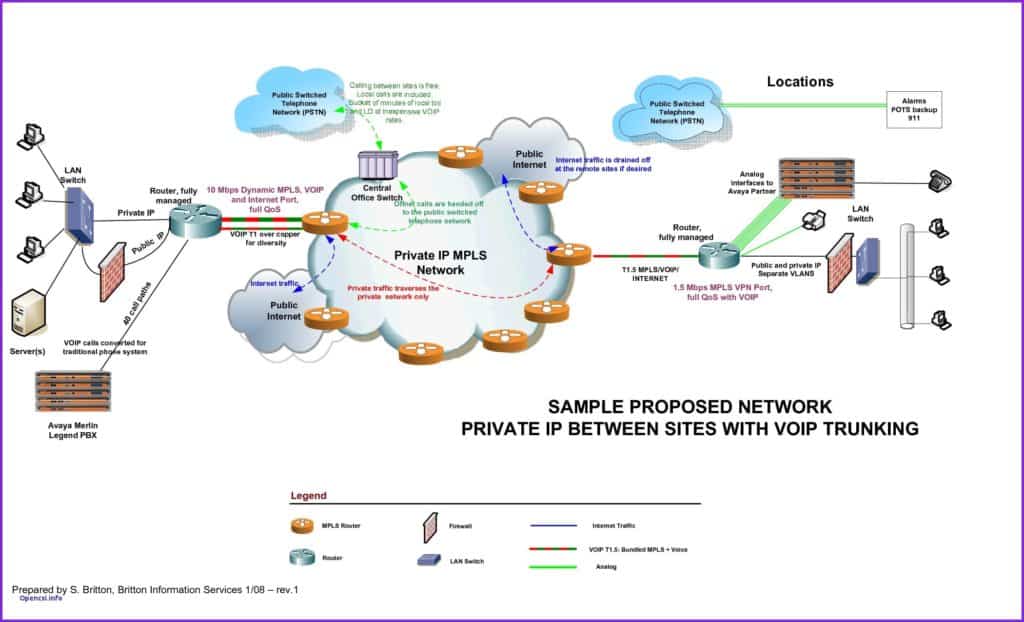 Features
The top features of Microsoft Visio are:
Comes with many pre-loaded templates, themes, and thousands of shapes that make it easy to draw your network diagram. You can even use different colors, icons, and text to present complex network connections.
The existing shapes meet the industry standards such as Unified Modeling Language 2.4, Business Process Model and Notation 2.0, and IEEE compliance.
You can connect data to the diagram to give you a quick glimpse into your network's performance at any time. You can even transfer data from your Excel files with just a single click.
Makes it easy to share your diagram with other stakeholders within the organization through Visio services in Office 365 or SharePoint.
Allows you to secure your diagrams with data loss protection, Information Rights Management (IRM), and multi-factor authentication.
Comes with intelligent rules, validation, and a complete breakdown of the diagram for easy understanding.
Supports many different file formats.
Pricing
Microsoft Visio comes in two plans. The first plan is a basic one that's ideal for users who want to create and share simple diagrams. Costs $5 a month (with an annual commitment) and comes with 2GB of OneDrive storage. The second plan is an advanced one ideal for businesses that want to create a network and other IT diagrams that can be connected to data in real-time and meets the compliance requirement of different standards. This plan costs $15 a month with an annual commitment.
Download
Click here to try the basic plan and here for the advanced plan.
5. Dia
Dia is a free and open-source diagram software that resembles the Visio in many ways. But its feature set is highly limited when compared to Visio.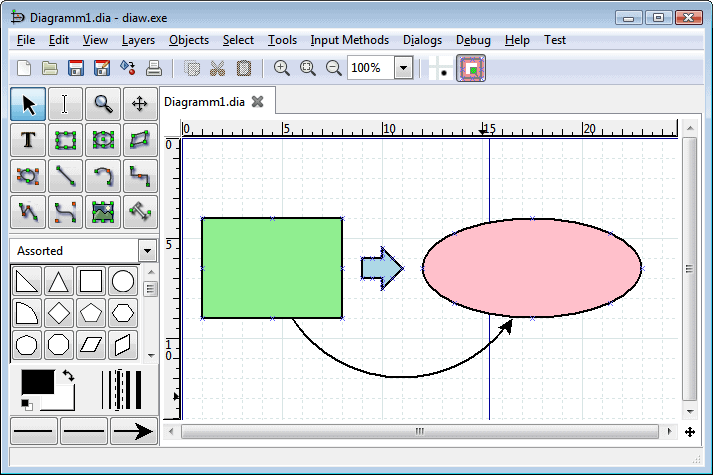 Features
The features of Dia are:
Comes with networking equipment templates to make it easy for you to draw your network diagrams.
It can be saved in a custom XML format or can be exported to different formats such as SVG, PNG, and more.
Runs on Windows, Linux, OS X, and Unix.
Pricing
100% FREE to use
Download
Click here to download Dia.
6. LucidChart
LucidChart is a web-based platform that allows users to draw, share, and collaborate charts and diagrams.
It allows you to create many types of charts and diagrams such as flowcharts, UML, process maps, network diagrams, and organizational charts.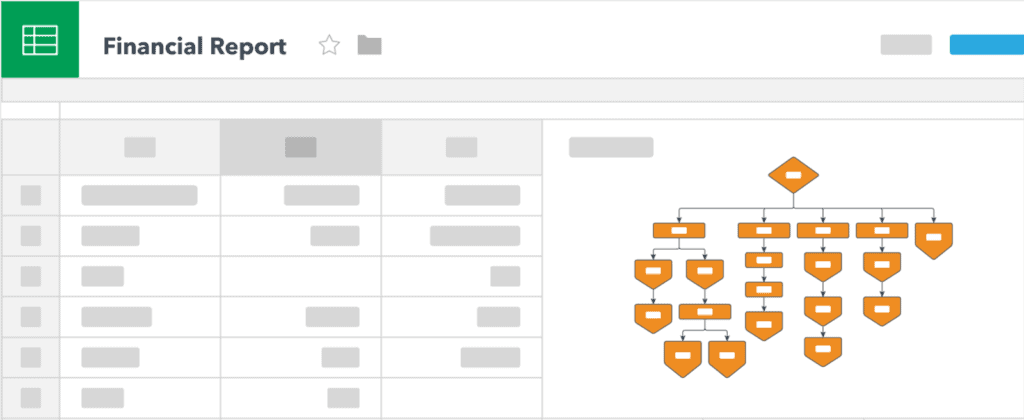 Features
The features of LucidChart are:
Runs on browsers that support HTML5 and doesn't require third-party software like Flash.
You can connect live data to your diagrams. Alternately, you can import data to automatically build network diagrams.
Integrates well with G Suite, Microsoft Office, Atlassian, and more.
Gives the option to edit any pre-existing templates or diagrams and customize it to suit your needs.
Supports collaboration and sharing in real-time.
All data is encrypted and is backed up automatically
Has thousands of shapes and templates to choose from.
Pricing
It comes in two versions – Free and Pro. The Free version is for a single user and costs nothing while the Pro version comes with many advanced features such as Visio import and export and any number of shapes and documents. It costs $9.95 a month when paid quarterly and $11.95 when paid monthly.
Download
You can download the free version here and a trial version of the Pro option here.
Conclusion
To conclude, network diagram tools are necessary to give you an idea of your network's layout and the devices that are connected to it.
While some tools automatically check your network and create a map for you, others give you a digital canvas on which you can draw your network diagram for better understanding and readability.
We hope the above-mentioned detailed information about the tools that belong to both categories help you to make informed decisions.