It is always important to stay on top of what you own, its performance, and possibly even the cost associated with its operations so you can evaluate its use and whether it needs any additional repair or maintenance. This is the crux of asset management and it is the first step towards calculating the cost of ownership of all your assets.
In a corporate environment, assets include everything you own, starting from your office furniture to your computers and servers and everything in between. This asset management is crucial to keep a check on your costs and to boost the overall productivity of your organization. Typically, asset management includes the documentation of all your physical assets, their performance at any given time, their operating costs, contractual obligations, and any other pertinent information.
Since a company can own many assets, it is impossible to manually document every software or hardware and to stay on top of their performance. This is where asset management software comes into play. This is a platform that acts as a central repository to store all information related to your assets, so you or any other authorized employee can have complete control over its performance and cost.
Before we go into the best asset management tools, let's take a brief look at the benefits of asset management.
Benefits of Asset Management Tools
Here are some of the most important benefits of asset management.
Reduced costs

Better control

Capacity planning

Improved productivity, efficiency, and customer service

Compliance

Saves time and energy for employees

Eliminates the possibility of human errors
Now that you know what asset management can bring to your business, let's look at a few top asset management software that can help you to leverage these benefits.
SolarWinds Service Desk

ManageEngine Asset Explorer

Spiceworks IT Asset Management

LanSweeper

Kaseya VSA

SysAid

Network Inventory

Advisor

OpenAudIT by OpMantek
Let's take a detailed look into each of these tools, so you can make an informed choice when it comes to managing your company's assets.
Here's the Best Asset Management Software & Tools:
1. SolarWinds Service Desk
SolarWinds Service Desk is an IT Service Management solution from the renowned SolarWinds, a company known for its top-of-the-line monitoring products. This tool combines many different aspects of asset management and presents it in a single location for complete control and visibility.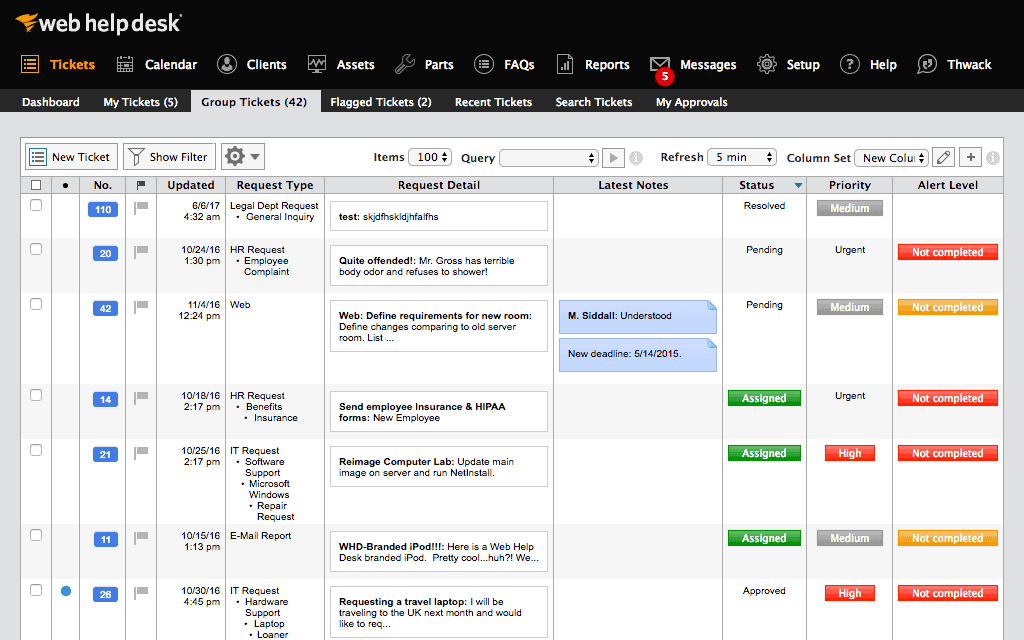 Features
Some of the top features of SolarWinds Service Desk are:
Streamlines and organizes tickets from many media

Supports automated rules for faster resolution

Offers relevant solutions and related articles

Consolidates all assets to give you better control and to identify areas for cost reduction

Automatically detects risks on employees' computers

Expedites ticket resolutions by gathering and presenting each asset's incidence history.

Improves employee productivity

Presents customization options

Provides 24/7 access

Groups similar incidents
Due to such advanced features, this tool is the overall best asset management software on our list.
Pricing
Contact the sales team to get a custom quote.
Download
2. ManageEngine AssetExplorer
AssetExplorer from ManageEngine is a web-based tool for asset management that makes it easy to monitor and manage assets from the beginning to end.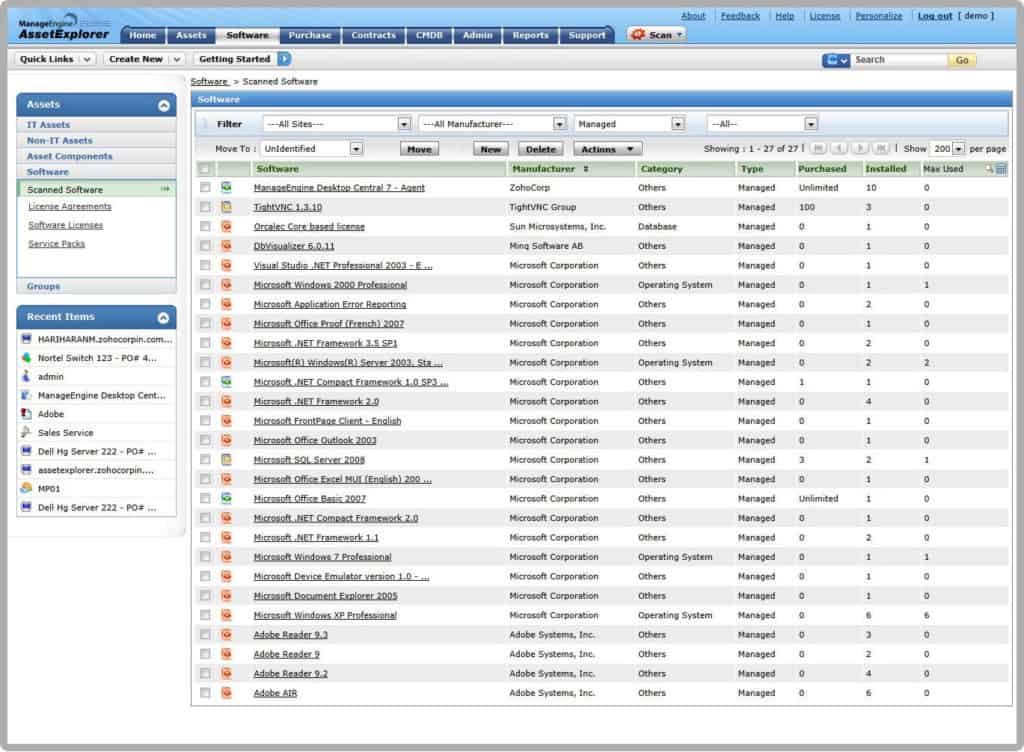 Features
Some of the key features of this asset management tool are:
Monitors the complete asset lifecycle

Automatically discovers all hardware and software in your network.

Provides critical insights based on history, CI information, relationships, and more.

Makes it possible to control assets remotely

Stays compliant with regulatory standards and license agreements

Helps in root-cause analysis

Generates detailed reports.

Comes with a well-developed app for Android and iOS.

Offers the flexibility to schedule reports and get them delivered to your inbox.
With such unique features and a highly user-friendly interface, AssetExplorer is our Top Rates asset management tool.
Pricing
The cost depends on the number of assets used. Here is a breakdown of the costs.
250 assets – $955

5000 assets – $1,795

1000 assets – $2,995

1500 assets – $4,195

2000 assets – $4,795

3000 assets – $7,195

5000 assets – $9,595

10,000 assets – $11,995
Download
You can download a trial version here.
3. Spiceworks IT Asset Management
Spiceworks IT asset management tool is a free tool that integrates with your help desk and network to give you complete control over your software and hardware assets. The best part is this tool is 100% free.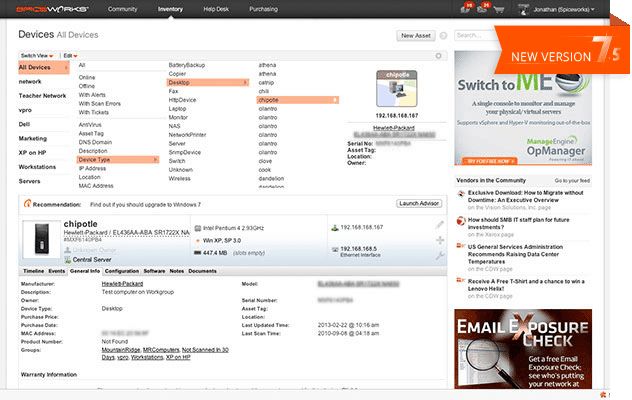 Features
The key features of this tool are:
Manages all your hardware and software inventory

Keeps track of all software licenses to help with compliance and to reduce unwanted licensing costs.

Reins in cloud services as well

Creates extensive reports on assets, inventory, and even network metrics.
Due to these wide-ranging features, this is our pick for the best free asset management software.
Pricing
100% FREE.
Download
Click here to download this tool.
4. LanSweeper
LanSweeper is a comprehensive tool that helps to build a centralized asset management system to give you total control over the cost of ownership and performance of all your assets.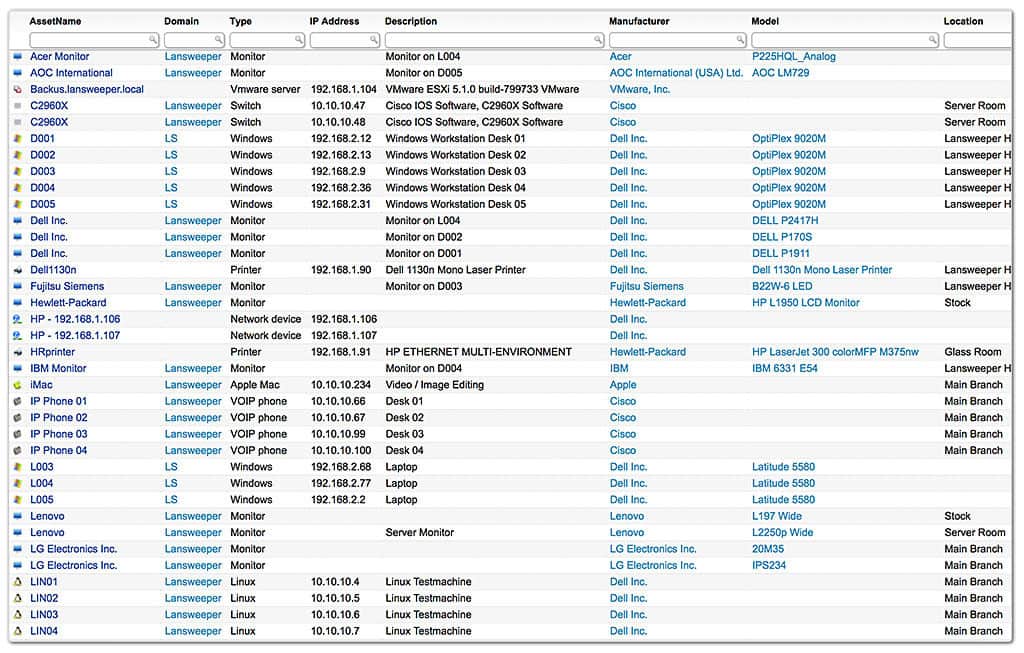 Features
Here is a look at some of the important features of LanSweeper.
Discovers any asset in your corporate network without having to install any additional software.

Works well on all environments

Provides a single and up-to-date repository for all your assets.

Creates top-notch analytics from existing data to answer all your questions.

Increases visibility for your assets.

Automates recordkeeping and reporting to improve productivity

Identifies risks, problems, and compliance issues before they become a headache

Shows unnecessary expenses, so you can cut back on them.
From the above list, it is clear that LanSweeper specializes in automatically discovering your assets and keeping it all together for complete visibility and control. This is why this tool is our best choice for the automatic discovery of your assets.
Pricing
There are two editions – Free and Enterprise. The Free edition is free but supports only a maximum of 100 assets while the Enterprise edition costs 1 EUR per asset per year.
Download
Click here to download the free version.
5. Kaseya VSA
VSA from Kaseya is a remote monitoring and management solution that helps you to manage both endpoints on your infrastructure, so you have complete control over your hardware and software assets.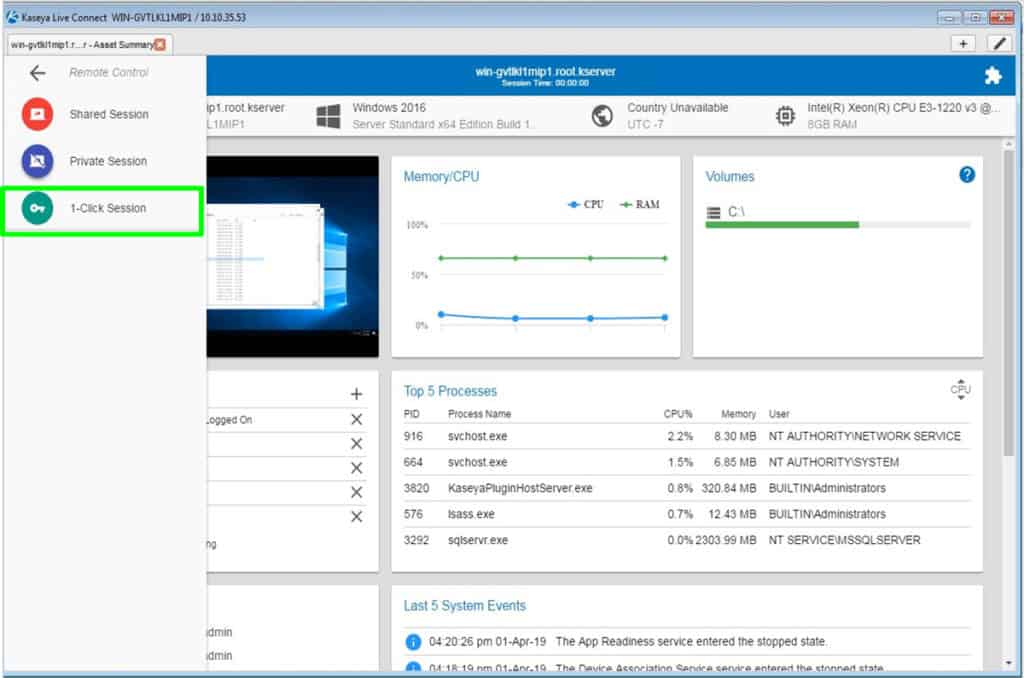 Features
The key features of VSA are:
Unifies network and endpoint management

Provides a single view of your entire infrastructure with all its assets

Comes with a dynamic documentation engine that automatically updates your documents, so your employees can have access to the latest information.

Allows you to create scripts that will solve all critical and labor-intensive problems.

Ships with pre-built procedures and automation to help with compliance

Gives the flexibility to add-on more solutions

Supports a one-click secure access
These features make it easy to proactively manage IT infrastructure remotely, thereby making it ideal for MSPs.
Pricing
Contact the support team for a custom quote.
Download
Click here to download a free trial.
6. SysAid
SysAid's IT Asset Management helps to view, secure, and manage your assets from a single point, so tracking your inventory is easier than ever before.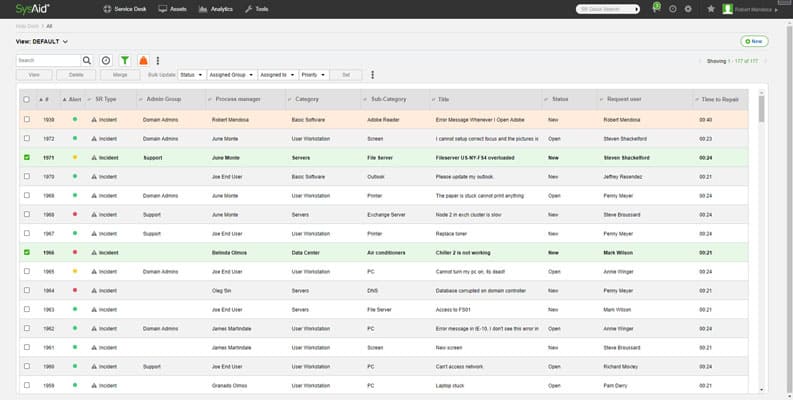 Features
Some of the important features of SysAid are:
Quickly discovers the assets in your network.

Allows users to log a ticket by simply pressing a hotkey, so information about the relevant asset including its screenshot is automatically logged into the system.

Deploys patches when needed.

Tracks assets and sends alerts in real-time.

Imports data into your CMDB

Supports remote control, license management, supplier catalog, and more.

Top-notch customer support
Pricing
Click here for a custom quote.
Download
Start your free trial by clicking this link.
7. Network Inventory Advisor (Best in Inventory)
Network Inventory Advisor is a network inventory system that automatically collects relevant data and provides detailed statistics to give you total visibility on the performance and ownership costs of your assets.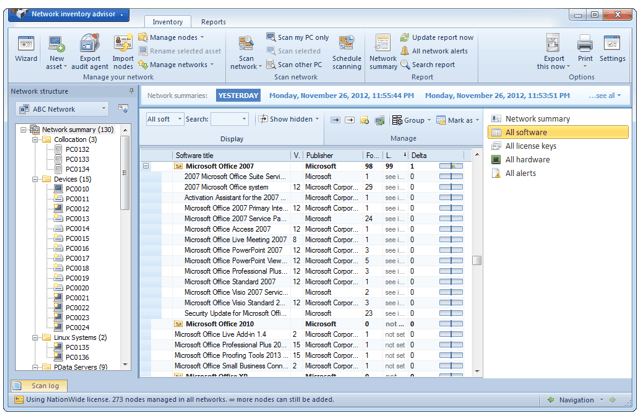 Features
Here are some of the key features of this tool.
Makes it easy to track installations, software versions, licenses, and services on all computers.

Comes with license aggregation and management features

Scans your network to identify all the assets installed in it.

Scans all hardware details remotely

Helps with mass upgrades and to troubleshoot hardware problems remotely.

Makes compliance a breeze.
Since this tool takes complete stock of all your inventory and gives a snapshot of the same in real-time, it is the best tool for inventory management.
Pricing
Cost depends on the number of nodes and below is the pricing for each.
25 nodes – $89

50 nodes – $169

100 nodes – $289

200 nodes – $389

300 nodes – $489

400 nodes – $589

500 nodes – $689

750 nodes – $889

1000 nodes – $999

1500 nodes – $1,199

Unlimited nodes – $1,699
Download
Click here to download a 15-day trial.
8. OpenAudIT by OpMantek (Best in Open Source Community)
OpenAudIT by OpMantek is an open-source network discovery and inventory software that gives you detailed information about your assets including their configuration and changes.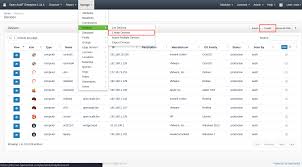 Features
The salient features of this tool are:
Automatically discovers assets in your network.

Supports change monitoring

Highly scalable to meet your business' needs

Manages software licenses

Provides network analysis reports and dashboards

Monitors file integrity

Offers role-based access controls

Works well in all environments, including the cloud.
This tool is one of the best in the open-source community as it comes loaded with features to help you customize the tool to meet your business needs.
Pricing
This tool comes in three editions – Community, Professional, and Enterprise. The Community edition is free while the Professional and Enterprise editions cost $1,449 and $1,199 respectively.
Download
Click here to download a free version
Conclusion
To conclude, asset management is an essential part of your business operations as it helps you to track the cost and performance of your hardware and software assets. The above-mentioned tools come with great features and we hope this information helps you to make the right choices based on your organization's needs.