Finding the Best IT Infrastructure Monitoring Tools and Software for your Networks and Business is critical to in today's complex and ever-growing eco-system of technology.
In fact, these tools are essential to ensure that networks never slow down or stop functioning when critical business and production applications need to be online.
Generally speaking, these tools help you stay on top of your devices' performance, allow you to add or remove devices, ensure constant availability and send alerts when something is likely to go wrong.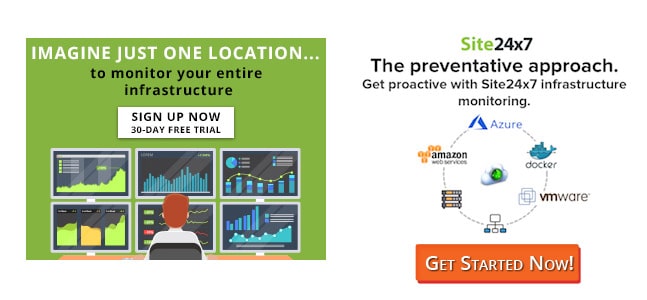 With such capabilities, your job becomes a lot easier and also, helps you to proactively secure and monitor the entire network.
Here's the Top IT Infrastructure Monitoring Software & Tools of 2019:
Since monitoring tools are a critical part of your network and through it your business operations, many companies have come up with comprehensive infrastructure monitoring tools to assist you with your daily tasks.
Here's a look at some of the Top IT Infrastructure Management software along with some of their features. Please Note: These are quick summaries of their capabilities and feature sets – Its best to choose the software you feel is most fitting for your needs and download their Free Trial and test it in your Network.
1. SolarWinds Network Performance Monitor
SolarWinds Network Performance Monitor is one of the well-known names in the world of infrastructure monitoring. It is a comprehensive tool that gives deep insights into the performance and availability of your network, round the clock.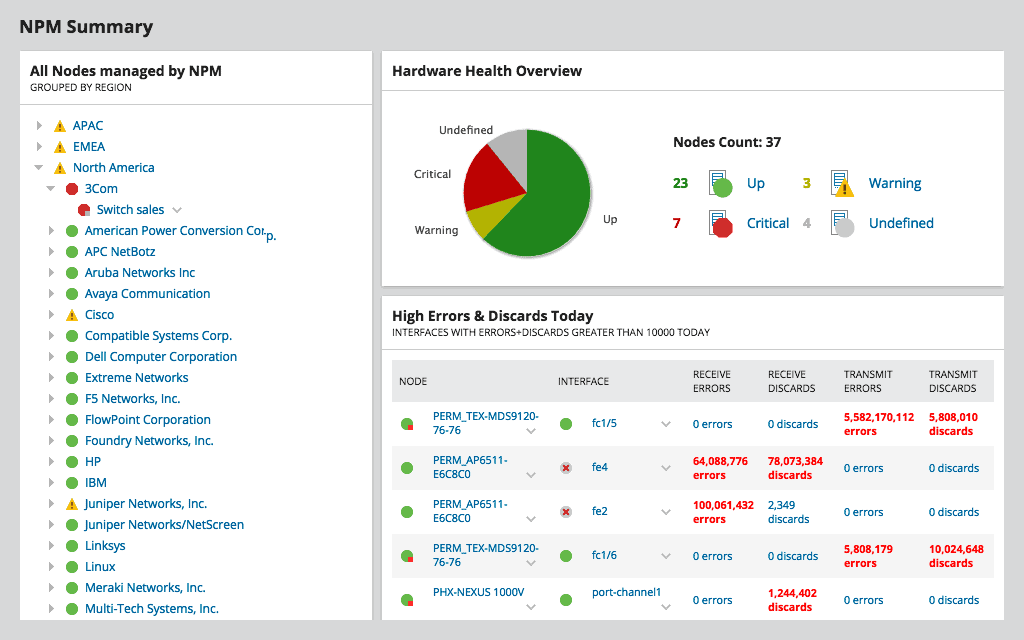 It's other salient features include but are Not limited to the following:
Scalability to handle the growing size of your network.
Multi-vendor network monitoring
Network insights for some of the leading products such as Cisco ASA and F5 BIG-IP
Integration with NetPath for critical path visualization
Customizable dashboard to give a visual understanding of network data.
Customizable alerts based on specific triggers, so you can have better control over what should trigger an alert.
Comprehensive reports that provide all the necessary information in one place.
Wireless network monitoring to identify dead zones and improve wireless coverage.
Proactive monitoring to prevent security-related incidents
Complete control over the health, availability and performance of any device on the network
As you can see, Solarwinds NPM is one of the Top Tools in the industry and has a feature set to back it up. They are very well rounded and Continue adding new features yearly to keep up with Software updates and Server Operating systems, as well as networking standards as well.
Price:
Free 30 Day Free Trial – Contact Sales for an Accurate Quote
Official Download:
Download a fully functional 30-day free trial at:
https://www.solarwinds.com/network-performance-monitor/registration
2. ManageEngine OpManager
ManageEngine's OpManager gives complete visibility and control over the entire network. Their Interface is Modern and Colorful with an Array of features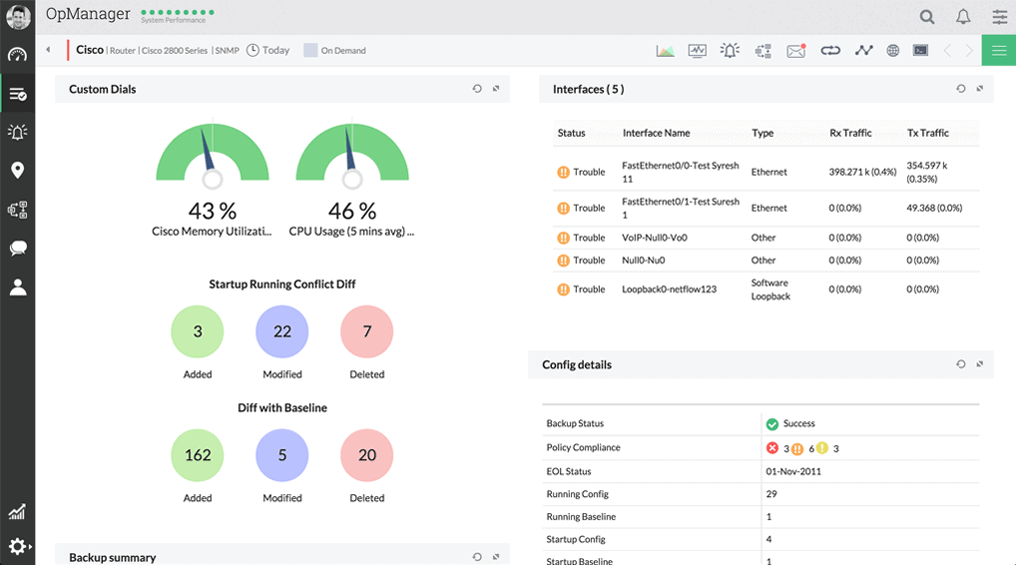 Here's a look at some of its powerful features and capabilities to give you a better sense and understanding of what OpManager can do for you:
Monitors performance in real-time through live dashboards.
Stays on top of critical performance metrics such as CPU usage, memory and disk space.
Uses threshold-based alerts to address problems even before they occur.
Fixes errors with customizable network monitoring strategies such as setting alarms, forwarding syslog entries and more.
Provides rich insights into the performance and availability with a wide range of customizable reports
Comes with easy installation procedures and a user-friendly interface
Helps to troubleshoot first and second level tasks.
Offers SNMP trap processing.
Monitors critical security logs across all windows servers.
Proactively monitors devices such as switches, routers and servers.
Scales for more than 5,000 devices.
Offers remote network monitoring
Price:
Three editions are available – Essential, OpManager Plus and Enterprise.
| | | | |
| --- | --- | --- | --- |
| Feature | Essential | OpManager Plus | Enterprise |
| Distributed network monitoring | No | No | Yes |
| Automatic L2 network map | Yes | Yes | Yes |
| Basic monitoring | Yes | Yes | Yes |
| Advanced monitoring (VMware, Hyper-V) | Yes | Yes | Yes |
| Maximum devices | 1,000 | 1,000 | 50,000 |
| Plug-Ins | APM Plugin for five monitors | APM Plugin for five monitors | APM Plugin for five monitors |
The essential edition is priced at $715 for 25 devices, OpManager Plus is priced at $5,045 for 50 pack and Enterprise is priced at $19,795 for 500 devices.
Official Download:
A 30-day free trial for all the editions is available at:
https://www.manageengine.com/network-monitoring/
3. PRTG Network Monitor
PRTG Network Monitor from Paessler monitors all the traffic, devices and controllers within an IT infrastructure, to give a comprehensive picture of the network's health at any given point in time.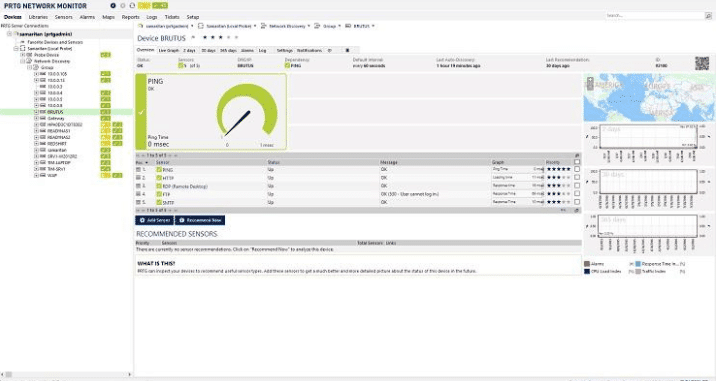 Some of the features of this tool are:
Comes with 10 different alerting tools such as email, push, alarm, audio files, SMS, HTTP requests and more.
Has a fully-featured web interface based on AJAX standards
Offers an enterprise console for native Windows applications.
Apps are available for iOS and Android
Allows fail-over tolerant monitoring, and a single fail-over is a part of every license.
If the primary master of a cluster is down, another node takes over automatically.
All nodes monitor all the sensors 24 X 7, so it's possible to compare the response times of different locations within the same network.
Makes it possible to create custom dashboards using the PRTG map designer. These dashboards can also be designed with custom HTML.
Provides great-looking reports to get the right insights about network performance and availability.
Comes in many languages such as English, French, Spanish, German, simplified Chinese, Dutch, Russian, Japanese and Portugese.
Price:
The cost of PRTG network monitor depends on the number of sensors used.
It is free for 100 sensors
$1,600 for 500 sensors
$2,850 for 1000 sensors
$5,959 for 2500 sensors
$10,500 for 5000 sensors
Other than sensor-based pricing, PRTG also offers two packages. The first one called XL1 Unlimited allows one core installation without any upper limit on the sensors, and this is priced at $14,500. The other option, called XL5 Unlimited, allows five core installations and costs $60,000.
Official Download:
Down a free trial at:
https://www.paessler.com/download/prtg-download
4. WhatsUp Gold
WhatsUp Gold from IpSwitch allows you to proactively monitor your network and get instant visibility into the status of network devices.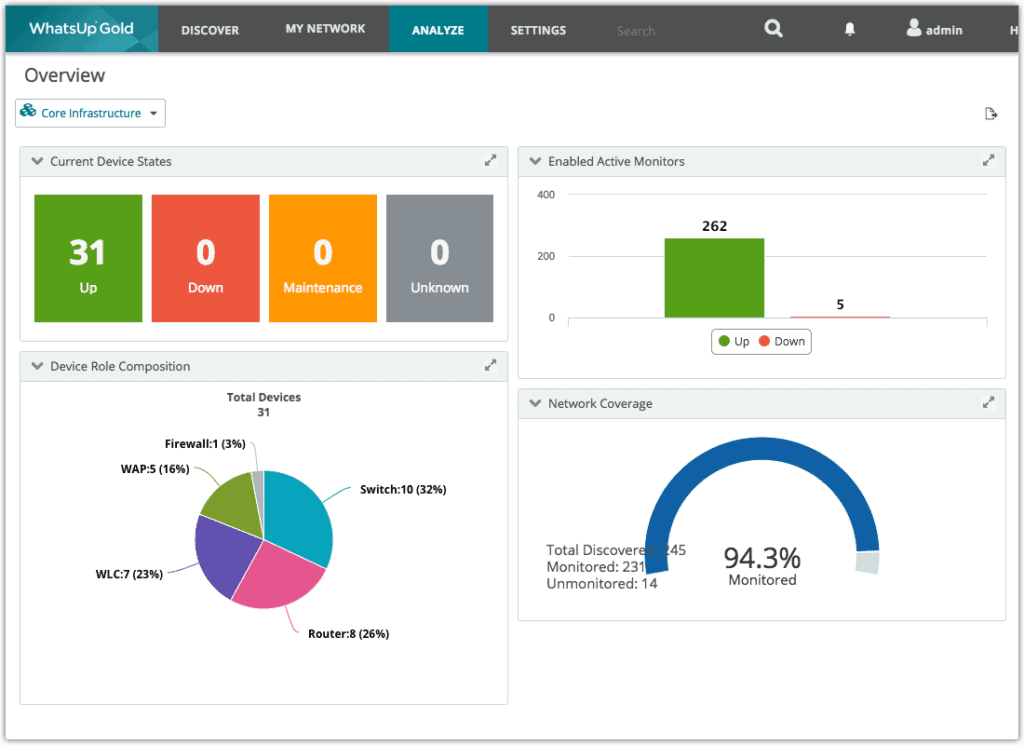 Here's a detailed look into its features.
Provides visibility into applications, whether they are in the cloud or on-premises.
Sends proactive notifications through email, SMS or Slack.
Comes with custom dashboards to see the information you need.
Has automated action policies to define state changes.
Automatically creates a detailed interactive map of the entire network infrastructure.
Actively monitors poll devices for a yes or no response.
Supports protocols such as SNMP, WMI and SSH to track CPU and memory use.
Sends alerts through email, SMS, Slack and web alerts.
Exports reports in multiple formats.
Comes with built-in and customizable monitoring profiles for SQL, Exchange and Active Directory.
Performs audits to compare configurations against established practices.
Price:
There are three editions – Premium annual subscription, Premium license and Total Plus license. These are the differences between the three editions.
| | | | |
| --- | --- | --- | --- |
| Description | Premium annual subscription | Premium license | Total Plus license |
| Network device and server monitoring | Yes | Yes | Yes |
| Automatic discovery | Yes | Yes | Yes |
| Interactive map | Yes | Yes | Yes |
| Availability and performance monitoring | Yes | Yes | Yes |
| Alerts and notification | Yes | Yes | Yes |
| Customizable dashboard and reporting | Yes | Yes | Yes |
| Wireless network monitoring | Yes | Yes | Yes |
| Cloud and storage monitoring | Yes | Yes | Yes |
| Network traffic analysis | Add-on | Add-on | Yes |
| Application monitoring | Add-on | Add-on | Yes |
| Virtualization monitoring | Add-on | Add-on | Yes |
| Configuration management | Add-on | Add-on | Yes |
| Scalability pollers | Add-on | Add-on | Yes |
| Failover | No | Add-on | Add-on |
For pricing, click https://www.ipswitch.com/forms/request-a-quote/whatsup-gold to get a quote.
Official Download:
To download a free trial, click https://www.ipswitch.com/forms/free-trials/whatsup-gold
5. Nagios XI
Nagios XI is an enterprise server and network monitoring software that takes care of IT infrastructure monitoring.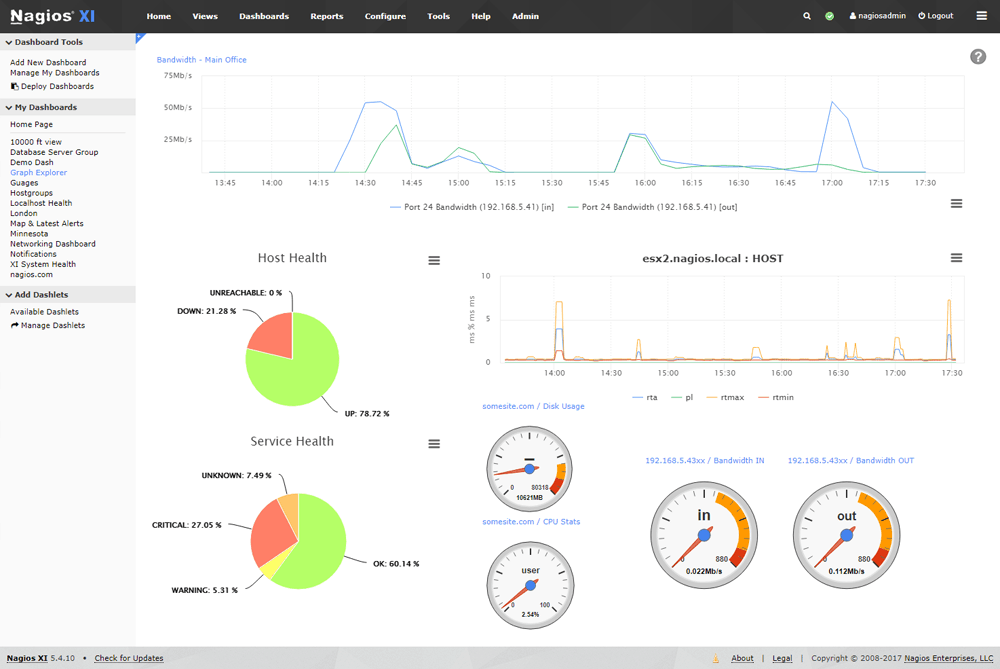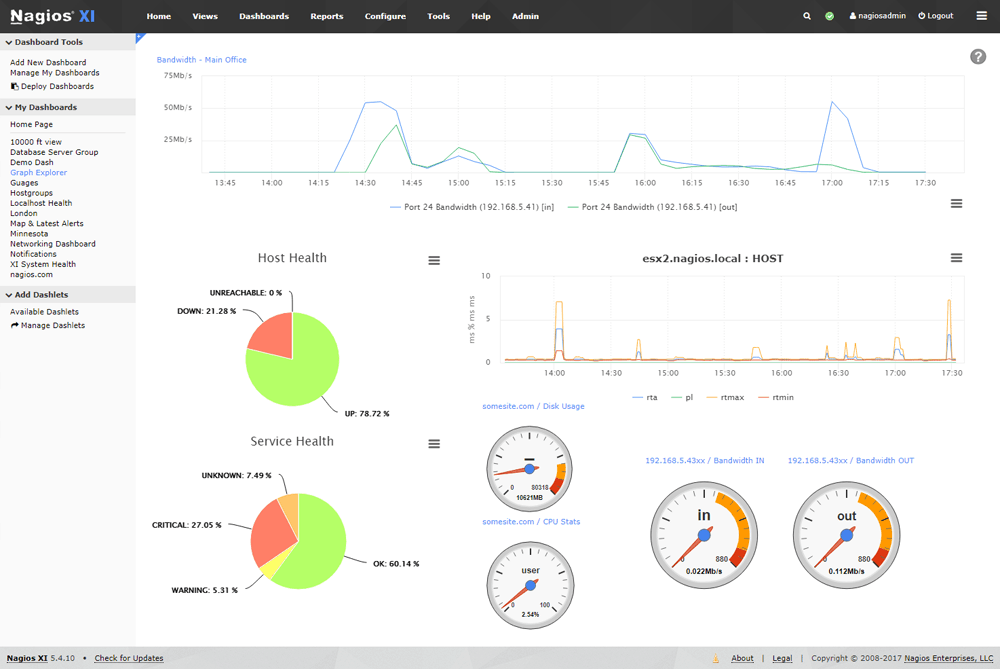 Here are its features.
A clean and user-friendly web interface.
Advanced visual tools to know more about network incidents and for proactive monitoring.
Capacity planning graphs that help organizations to plan for updates.
Configuration wizards to setup monitoring with just a few clicks.
Multi-user access to web interfaces to help users access status from anywhere.
APIs help to extend the functionality of this tool.
Central view of the entire IT infrastructure that includes processes and devices.
Price:
The pricing starts at $1,995 for the standard edition and $3,495 for the enterprise edition. The standard edition comes with
Configuration wizards
GUI configuration
Advanced reporting
Enhanced visualizations
Custom user dashboards
Custom user views
Executive summary report
Custom actions
Dashboard deployment
Notification escalations.
You can buy the standard edition at https://www.nagios.com/products/nagios-xi/buy/?field353=Standard%20Edition%20-%20Included%20in%20Base%20Price
The enterprise edition comes with
Scheduled reports
Capacity planning reports
Web-based server console access
Bulk modification tools
Audit logging
Notification deployment
SLA reports
Scheduled pages
Automated host decommissioning
You can buy the enterprise edition at:
https://www.nagios.com/products/nagios-xi/buy/
Official Download:
Trial versions are not available.
Conclusion
In short, Enterprise-grade IT Monitoring Tools & Software are an absolute necessity in today's complex world of networks. These tools come with a wide-range of features to suit the individual needs of every organization and this is why it greatly eases the work of network administrators.
We suggest downloading the a Tool from above that fits your criteria and give it a try in your network.