As any Network Technician, Admin or Engineer knows, you're only as good as your supporting Cast members!
Today we're going to jump into exploring the Best IT Help Desk software to alleviate any pain points for your IT Support staff and really streamline troubleshooting and tasks!
Keeping a help desk environment running smoothly can be a bit of a challenging task – issues come and go quite quickly, and often times things take a lot longer than expected, or conversely almost no time at all!
Here is our list of the best IT Help Desk Software in [year]:
SolarWinds Web Help Desk – FREE TRIAL This Help Desk system offers a ticket-raising interface to users and a ticket management system for technicians. The software is priced per technician and installs on Windows Server. Access the 30-day free trial.
SuperOps PSA – FREE TRIAL This SaaS platform of tools for managed service providers provides a ticketing system for IT support teams. Start a 21-day free trial.
ServiceDesk Plus by ManageEngine – FREE TRIAL A full-Service Desk solution that adds on problem management and SLA management to a Help Desk solution. Installs on Windows Server and Linux. Get a 30-day free trial.
NinjaOne Helpdesk – FREE TRIAL This cloud-based ticketing system provides a team and task management automation system for IT department or MSP support technicians and is part of a suite of system management tools.Access the 14-day free trial.
SysAid – GET DEMO 

This Service Desk package offers a Help Desk ticketing system as its based plan and can go all the way up to a fully-automated AI-based support team management system. Offered as a SaaS platform or for download to Windows Server or Linux.

Access the demo.
FreshDesk A cloud-based Help Desk system that is priced per technician and includes a platform for the creation of a self-service portal and a knowledgebase as well as a ticket management system.
JIRA An IT service management solution that includes a Help Desk module with ticketing and user services.
OsTicket This Help Desk management system can be self-hosted on a private cloud account for free or hosted by osTicket for a fee.
OTRS Free An adaptable Help Desk system that can be expanded and tailored by widgets. A higher-paid version is also available.
Track-It! Help Desk A Help Desk system from BMC that also has asset management features available.
SpiceWorks A free, ad-based Help Desk system that has a hosted paid version.
For smaller help desks with just a few agents this isn't normally a big problem, but even with just several people it's far too easy for things to become a mess – agents working on the same issue due to someone contacting the help desk about it several times, agents redoing work already done because it's not centralized, or worst of all entirely dropping the ball on major issues because it was handed off and forgot, or just never made it to the right person!
Software is the obvious solution for organizing a help desk – ticket management, assignment, updates, tracking, and similar features make easy the overwhelming task of micromanaging user issues to be sure nothing falls through the cracks.
It'd be near impossible for any help desk with hundreds of users to run without some kind of organization software, but even the smaller environments can really benefit, and that's where some of the great free and open-source options come into play!
Many of them offer much of the basic functionality one would need for creating, assigning, updating, and viewing tickets, while also offering some more complex features such as reminders or alerting to help keep folks on top of things.
Methodology for selecting the Best Help Desk Software & Tools
Check if it offers customer support through various channels.

Does it offer a knowledge base for assistance?

Does it offer a performance tracking system?
Here's a List the Best IT Help Desk Software of [year]:
At the end of the day you want to be sure that your IT Department isn't wasting their valuable time and resources by having several people work the same issue, or have issues left orphaned due to the one person that was working on them traveling or being out sick. Ticket and issue management is critical, and these programs can help!
SolarWinds has a wide range of offerings when it comes to IT environments for all manners of network management, so it's little surprise that they also offer some powerful internal tools, like their web help desk!
The SolarWinds Web Help Desk is an excellently scalable piece of software that jives perfectly in all sizes of environment, especially those which are growing.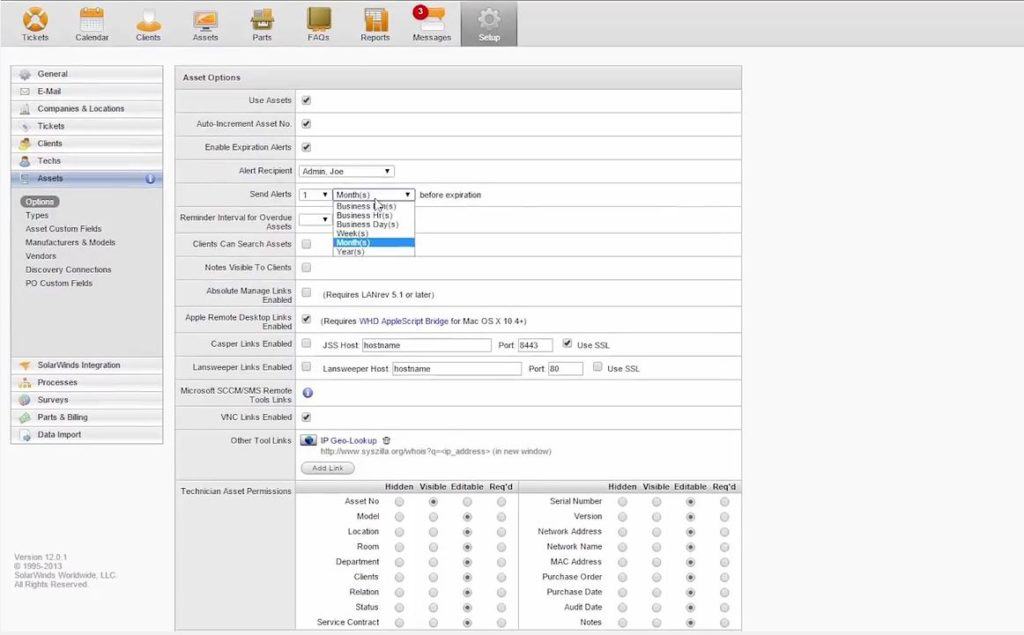 It offers compatibility in Windows, Linux, Mac OSX, VMWare, and Hyper-V, meaning that almost any environment can easily make use of it. They also offer Cloud-based versions for those wanting to move off site, too!
Of particular note this program includes automated tracking of hardware and software, making it easier to keep tabs on licenses and devices without having to remember to do it manually.
One of the Best features of SolarWinds' offering is the easy-to-use Remote desktop feature that is integrated into the asset management section, which allows you to remotely connect to any PC or Computer in your network and troubleshoot on the fly.
If you are in tech support or have worked with end-users, we both know this is the most indispensable feature you can have in your office environment, especially when you are working with telecommuting employees.
Below is a screenshot of the Remote desktop software (Dameware) in action: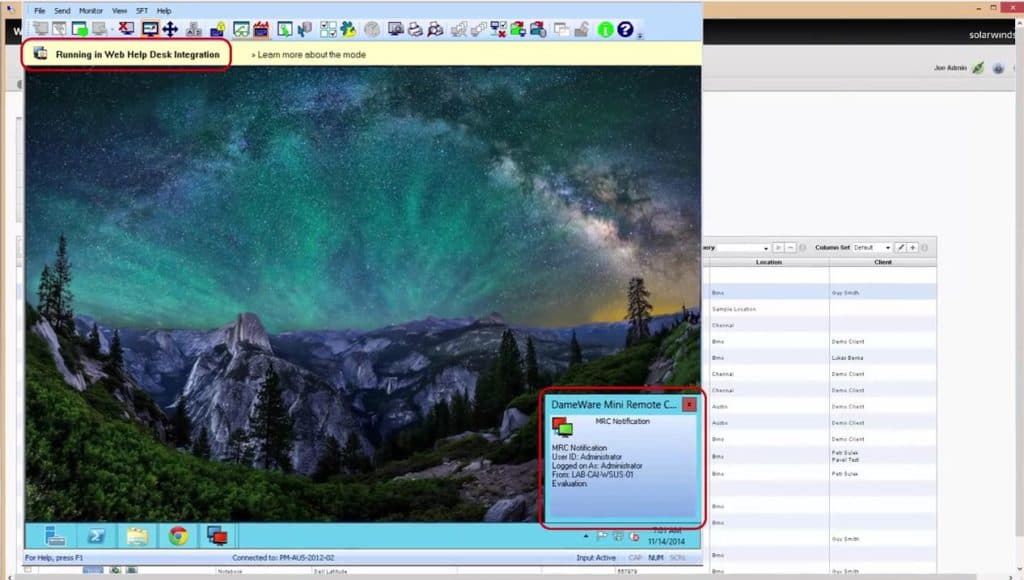 We highly suggest you download a Free Trial of Solarwinds software suite and try it out, you won't be disappointed. The ease of use and remote management capabilities really make it outshine the competition.
Pros:
Knowledge base template offers guidance to technicians

Supports integration with LDAP as well as Active Directory

Reports monitor performance in terms of SLAs

Allows setting date-related alarms

Immediately check hardware or network issues 
Cons:
SolarWinds Web Help Desk is not available as a cloud service
Price: 30-day 100% Free Trial!
Download Info: Free 30 Trial Download below:
SuperOps PSA is a SaaS platform that provides professional services automation (PSA) tools for managed service providers. The central element of this package is a ticketing system.
All of the SuperOps package is resident on the cloud and accessed through any standard Web browser. Users access the ticketing portal through a browser as well.
The backend of that system routes tickets to individual technicians and keeps track on progress. The system records time spent on each task, generates time-sheets, and draws up invoices. You can assess the SuperOps platform with a 21-day free trial.
Download: Access the 21-day free trial, https://superops.ai/signup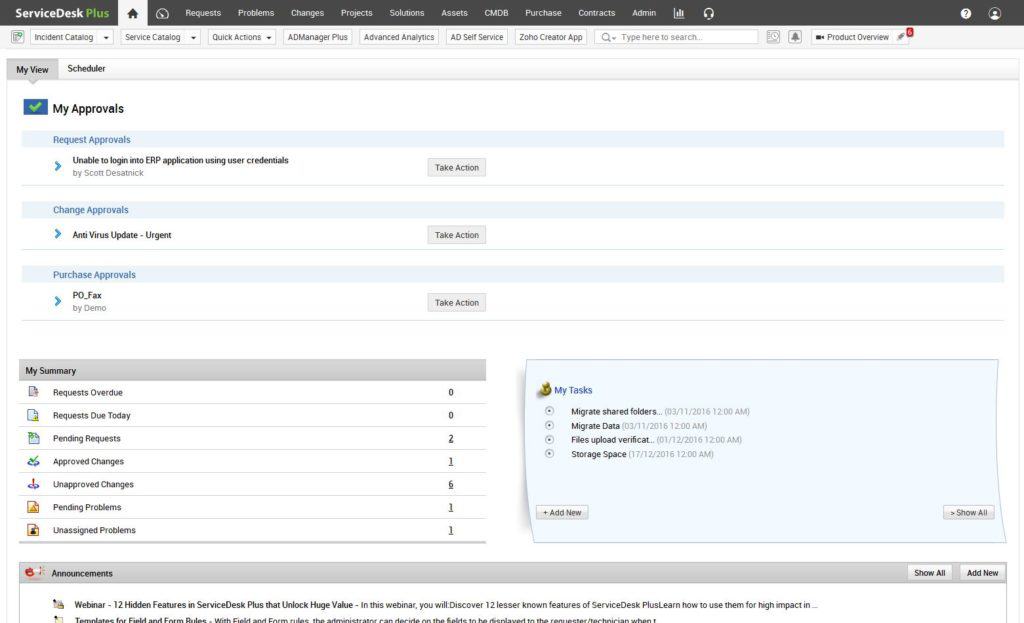 Another option which includes both on-site or in-cloud options, ServiceDesk Plus has a strong flexibility and even provides a 'Standard' edition that is "free forever!"
It has a particularly strong set of fully-customizable metrics by which tickets can be automatically sorted and assigned, allowing for a whole new broad level of automation via rules.
It also provides the standard run of user surveys, mobile compatibility, reporting, and so forth, with a few unique twists – you can even use email to issue commands to the help desk while out and about and have access to any email service!
Furthermore, ServiceDesk Plus includes multi-site support for front-end customization, data archiving, and still more – it's well worth a shot in most any environment. ManageEngine offer a 30-day free trial.
Pros:
Full control and visibility into IT issues

Supports integration with IT management applications

Handle IT tickets throughout the entire lifecycle

Monitors all configurations as well as maps their dependencies

Automatically sorts and assigns tickets using the fully-customizable metrics
Cons:
May take time to explore and use all the services/products
Download: Free trial with limited forever-free option, https://www.manageengine.com/products/service-desk/download.html
NinjaOne Helpdesk is a cloud-based system that provides a ticketing service for IT department technicians or for use by managed service providers. The entry point for users into the Helpdesk system is a self-service portal, which can also be set up with a knowledge base to enable users to solve their own problems and cut down the number of service requests. 
The tickets are all given unique IDs and they can be routed automatically according to rules that your support manager sets up. The tickets appear in a technician console, where they can be queued, activated, paused, closed, or forwarded. 
The team manager dashboard shows progress on each ticket and deadlines, which can be calculated automatically according to the demands of service level agreements (SLAs). The manager can escalate or re-assign tickets manually.
NinjaOne doesn't publish a price list and so you should start with your assessment of the package by accessing a 14-day free trial.
Download: Sign up online: https://www.ninjaone.com/freetrialform/
SysAid is an ITIL-based Service Desk system that includes a great Help Desk package. The service is available in three levels – the base package just includes the Help Desk package and the higher two plans add more complex workflow automation tools.
The Help Desk service includes a self-service portal that provides an access point for users. In this, you can create a knowledge base to help users solve their problems themselves. It also has a chat facility and a support request form.
The backend of the system routes tickets to technicians and provides a technician dashboard with remote access tools. The management console provides an overview of all current tickets.
Pros:
Self-service portal template

Ticket management service

SLA and deadline tracking

Remote access tools for technicians

Options for workflow automation
Download: Register for a free demo.
6. FreshDesk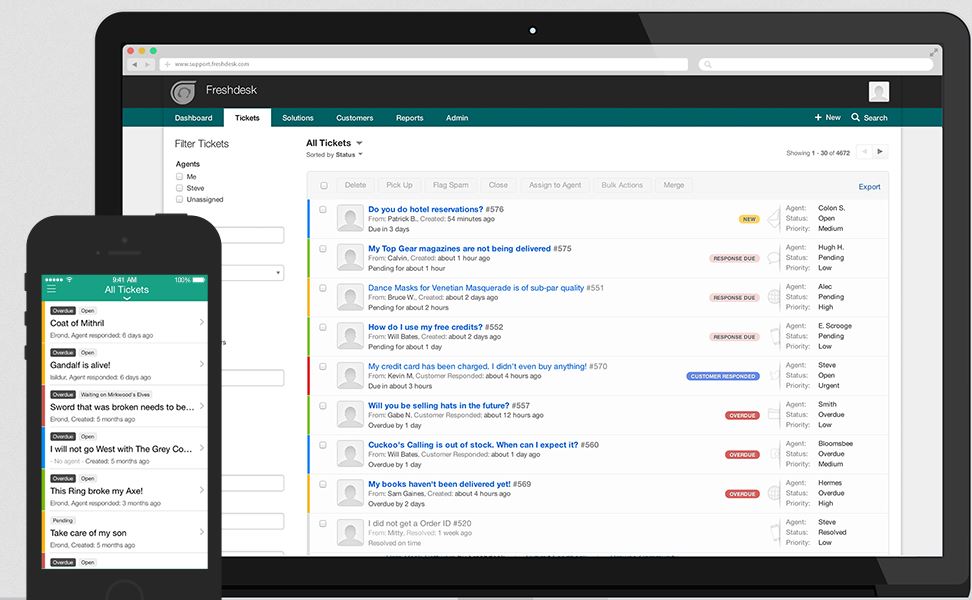 FreshDesk has a free trial option that, although pretty limited in that it allows a mere three agents with restricted functionality, can definitely give you a good taste of what the software has to offer.
It supports SLA-policy based prioritization, automated handling of knowledge-base building, wide multi-language support, and even has a snappy mobile-ready site for ease of access for agents!
Their licensing is relatively forgiving and has the option to add short-term or even daily licenses for especially hectic times that definitely won't last just to help get through the pinch.
Pros:
Easy engagement with customers via phone or web from any locations

Puts support operations on autopilot and allows concentrating on insightful conversations

Help-guides for team and customers

Quickly connects with customers

Offers 650+ app integrations
Cons:
Hard to use mobile app

Navigating the interface/UX is difficult.
Download: Free trial, https://freshdesk.com/helpdesk-software
7. JIRA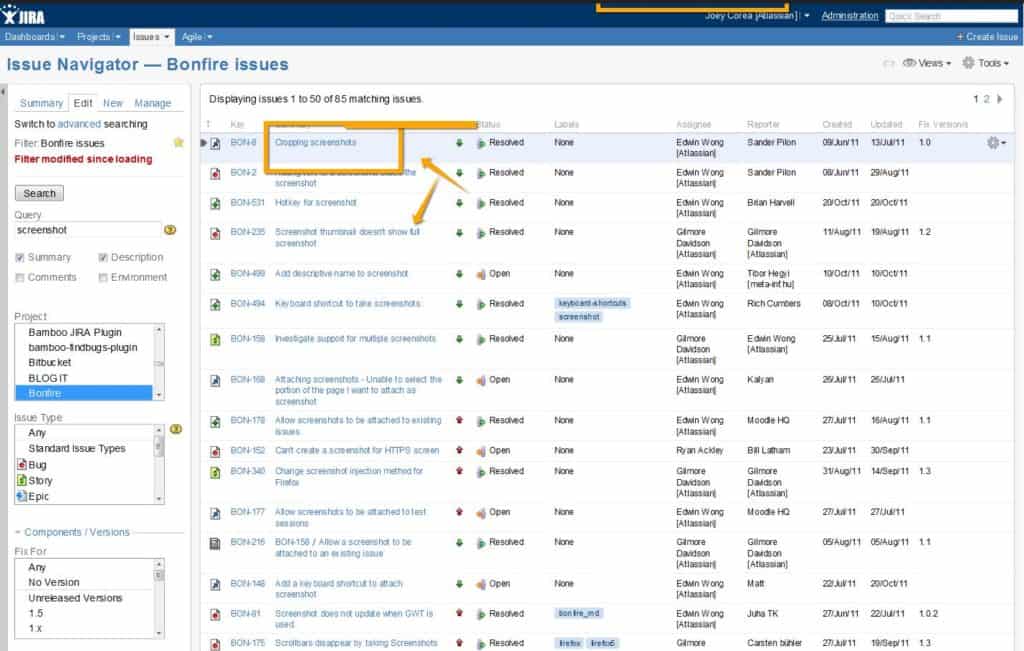 JIRA is a particularly interesting option – on a basic level it's a platform for handling bug tracking, ticket tracking, and general issue management.
However, JIRA's true power comes in the positively staggering amount of modularity and customization it is capable of.
With the right support and a bit of effort you can carve JIRA into unquestionably the most perfect option for your environment – the downside is that this requires a good amount of JIRA know-how or, of course, access to someone who does and the funds to pay them for it!
None the less, there are free offerings for the more basic installment of JIRA, and it's fairly easy to change it up down the line and adjust things later on without giving up any potential for expandable modularity.
Pros:
Ability to track bugs and other issues

Provides ready-made templates for easy management

Uses roadmaps to keep teams in sync

Generates out-of-the-box and insightful reports

Create workflows that can be customized to fit any type of task/work.
Cons:
Hard to set up

Managing tasks is difficult due to its complex user interface
Download: Free trial at https://www.atlassian.com/software/jira/download
8. osTicket Open-Source Ticketing
osTicket, and that's a hard 'S' due to this software's down-under origins and stereotypical wallaby logo, is an open-source option that has a lot of punch.
You can't beat the value of open-source software, especially when it's robust and well developed, as is the case with osTicket.
The software allows for a wide range of customization on the graphical end, such as logos, images, and even videos being attachable to tickets while also boasting unlimited SLA-policy agreements and a startling level of granularity allowed in ticket note tracking.
Due to being open-source you are stuck depending on community support, but it's worth emphasizing that in this case it's alive and well, making this a splendid option.
Pros:
The comprehensive dashboard keeps you updated on help desk statistics

Access to edit or remove help desk topics as per your choice

The client support portal system assists your company in keeping happy customers

Uses filters to automate the creation and routing of tickets

Sends configurable automatic replies on opening a new ticket
Cons:
Automation requires improvement

Custom workflows for handling tickets are not supported
Download: Totally free open-source, http://osticket.com/download
9. OTRS Free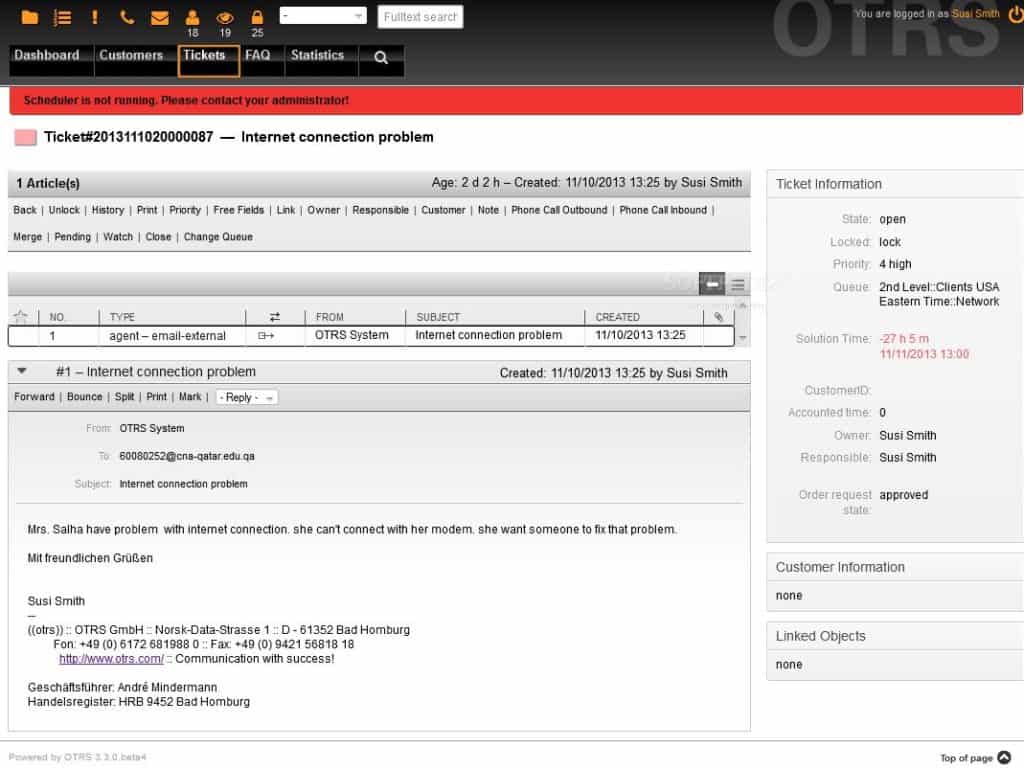 OTRS Free is another open-source option with a splendidly large and active community, which is a near must-have for open-source software that you'll be using heavily and may need some support or help on from others.
It has built-in email notifications for various ticket actions, and an excellent amount of sort-ability for arranging and viewing tickets by all manner of metrics.
It has a huge range of languages it's available in, over thirty, and some great visualization options such as ticket locking to avoid overlapping agents and even visual cues for agents who are away from the office to help better manage assignments.
Pros:
OTRS has a large and active community

Sends email notifications for numerous ticket activities

Offers access to 2500+ configuration options

Supports multiple languages and visualization options

Uses secure data centers and GDPR-compliant processes for IT security
Cons:
Inefficient CGI-based design

The search function is missing
Download: Totally free open-source, https://www.otrs.com/otrs-free-help-desk/
10. Track-It! Help Desk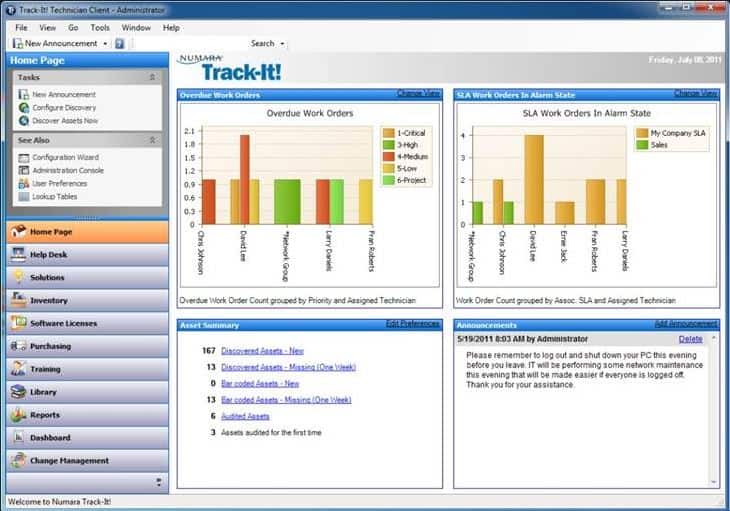 Track-It! offers some unique end-user self-service options, namely in the form of mobile device access and knowledge base features, while also offering the usual gambit of issue creation/tracking, emailing notifications, while including a range of back-end tracking, such as license management, asset management, and so forth, to help make their particular solution especially all encompassing.
Pros:
Offers end-user self-service options

Supports back-end tracking

Allows managing tickets and IT assets from a single location

Automatically scans and secures network devices

Simplify the help desk ticketing process with automated ticket creation
Cons:
Difficult to navigate

Issues with audit functions
Download: Free trial, http://www.trackit.com/
11. SpiceWorks
SpiceWorks has a free offering with the nuance that all the server setup, configuration, management, and so forth are all done on your end, and the free version doesn't even limit your number of agents, either!
The downside is that you're on your own with support and configuration, naturally.
Nonetheless, Spiceworks' free offering gives you a great deal more to work with than some other trials, though it does lag behind a bit with larger networks and isn't too happy when running in Linux, Unix, or VMWare based environments.
Furthermore, any significant outage or loss of data can be a big risk due to the self-hosted nature. You can also find some replacements to Spiceworks here that will also work as great Help Desk alternatives as well.
Pros:
Manage IT support desk tickets and tasks quickly

Track ongoing projects and manage user requests

Integration with the Inventory and IP Scanner helps keep track of devices and activities

Runs secure remote support session

Sends latest ticket updates and push notifications
Cons:
Works slowly with larger networks

Support and configuration are your responsibility alone
Download: Free trial, http://www.spiceworks.com/free-help-desk-software/
Conclusion
It's extremely important to have some kind of tracking capability for your IT Department – even better that it includes any of the added features to make sure that licenses are up to date and well utilized, that equipment is accounted for, and software doesn't go missing.
All of these things are essential features for any organization of almost any size – we all know how easy it is for things to slip through the cracks even with just a couple of things on our plate, after all.
The importance and necessity of a good solution for organizing, assigned, and resolving tickets is unquestionable.Finding the Best Help Desk Software for your business and tech team is crucial to resolving issues, downtime and tech support problems fast!