Staying on top of the different files and folders in your server helps to protect your confidential information and reduces the possibility of security hacks or breaches.
However, it is not practical to monitor every file or folder manually and this is why you need sophisticated file server monitoring tools and software.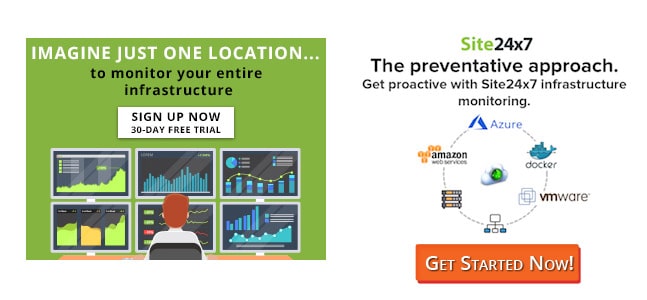 Some of the best file server monitoring tools and software are:
Here's the Best File Server Monitoring Tools & Software of 2020:
1. SolarWinds File Monitoring Software
This file monitoring software from SolarWinds comes bundled with its Server & Application Monitor, and it is designed to easily manage and monitor the performance of your file servers.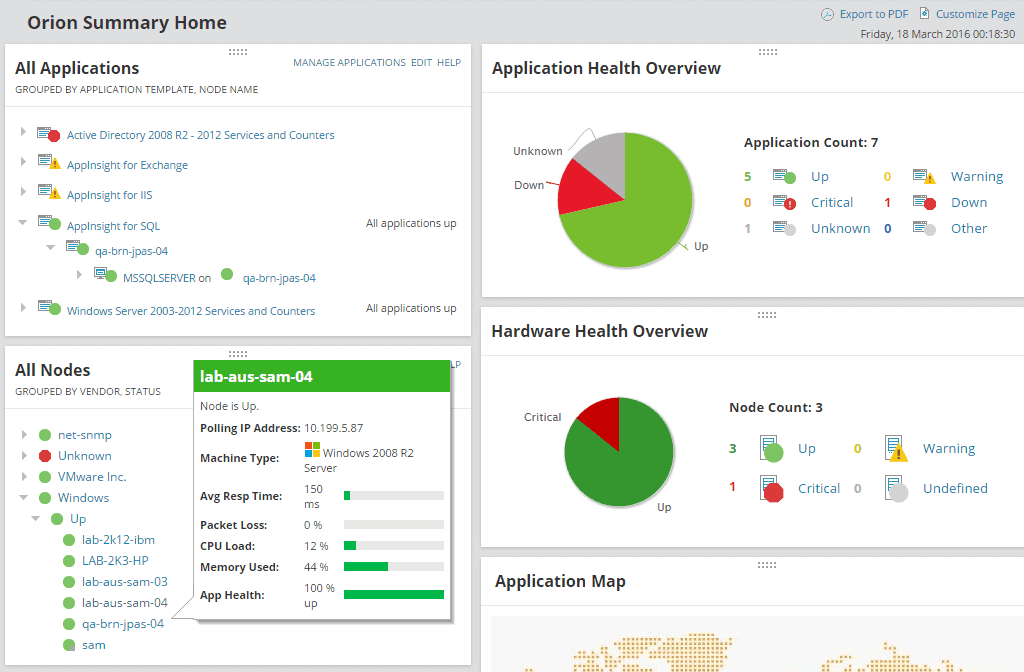 Source: SolarWinds
Features
Tracks file changes in real-time
Ensures end-to-end monitoring
Sends intelligent alerts for pre-defined thresholds.
Creates easy-to-read reports.
Monitors file changes across different operating systems and cloud environments.
Ideal for auditing purposes
Pricing
The cost of Server & Application Monitor is $2,995.
Download
Click here to download a fully-functional 30-day free trial.
2. Netwrix
Netwrix Auditor for Windows File Servers not only keeps track of who has accessed your files and folders but also gives actionable security intelligence that will help you to better protect your assets.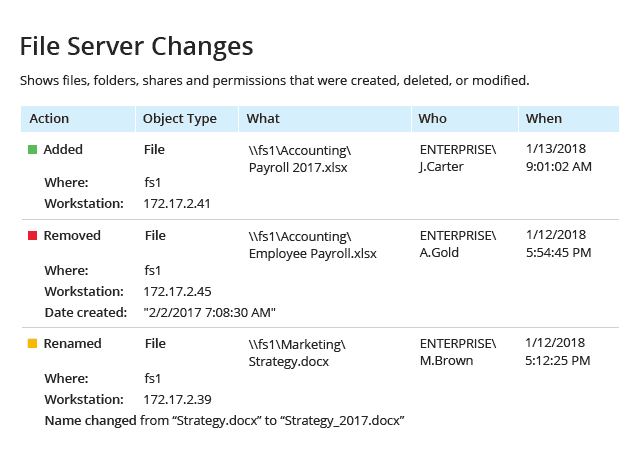 Source: Netwrix
Features
Shows files, folders, and permissions that were created, deleted or modified on any day.
Provides continuous file server auditing
Creates ready-to-use reports on access events.
Displays the successful and unsuccessful file read attempts
Makes it easy to review effective permissions to files and folders
Categorizes files based on the data they contain.
Pricing
Contact the sales team for pricing.
Download
Click here to download a 20-day free trial version.
3. ManageEngine File Server Auditing
ManageEngine's file server auditing seamlessly monitors, alerts, and reports on file accesses and modifications made to your file server environment.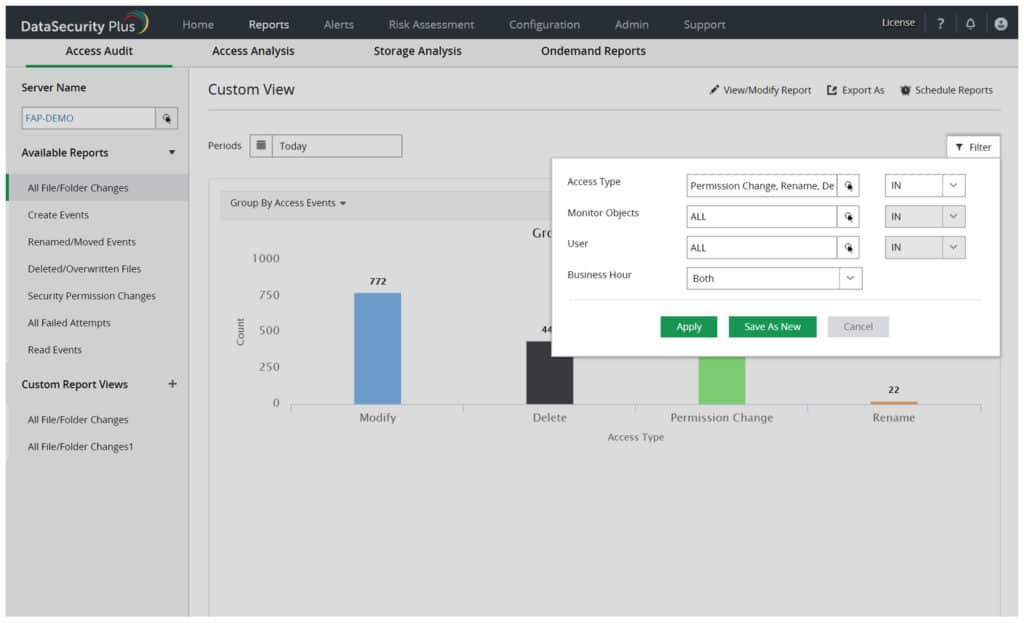 Source: ManageEngine
Features
Audits file and folder access.
Provides a snapshot of file activity, user activity, and access patterns.
Focuses on important events such as file deletion, renaming, and permission changes.
Identifies the most active users, the files that were accessed the most, and other important parameters.
Monitors file integrity.
Sends real-time alerts for changes made to certain files or folders.
Helps to comply with all regulatory mandates.
Pricing
The pricing for this file server auditing tool starts at $745.
Download
Click here to download a trial version.
4. FileAudit
FileAudit is file monitoring tool from IS Decisions and this tool helps an organization to protect its sensitive data and meet the compliance standards of different regulatory authorities.
Source: FileAudit
Features
Monitors file access in real-time.
Provides comprehensive, sortable, and real-time information about file access.
Continuously examines different operations such as read, create, and delete.
Sends alerts about potential breaches.
Provides customizable graphical statistics to help with better decision-making.
Pricing
Contact the sales team for pricing.
Download
Click here to download a trial version.
5. NetFort
NetFort's file activity monitoring software uses deep packet inspection to give you  comprehensive control over your file server.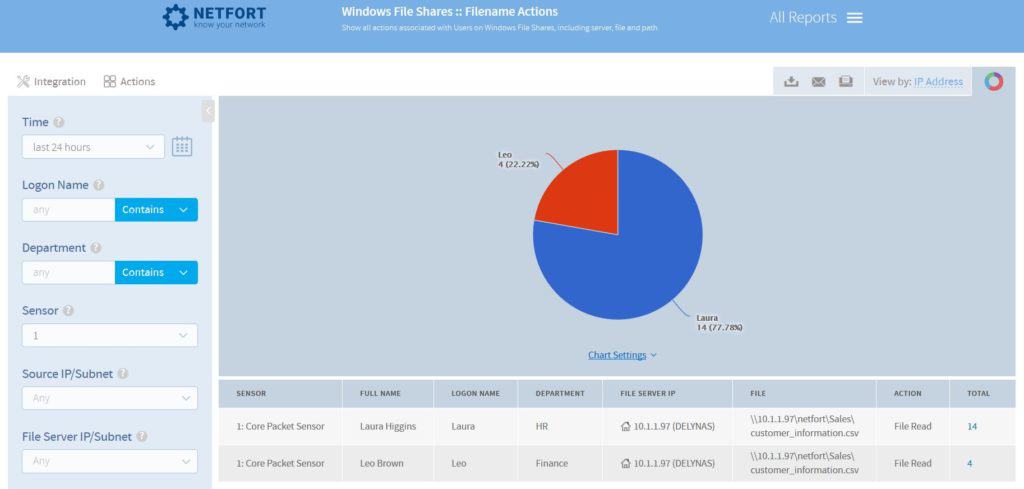 Source: NetFort
Features
Monitors and logs all access to files and file shares. No additional logging is required on file servers or clients.
Gives comprehensive information about usernames, file names, IP addresses of users, server names, and data volume.
Tracks access to confidential data, files, or folders.
Detects suspicious activities and data losses at the earliest and sends the same as alerts.
Helps to monitor across remote locations.
 Pricing
Contact the sales team for detailed pricing.
Download
Click here to download the trial version.
6. DirectoryMonitor
DirectoryMonitor is a tool that monitors and detects the changes made to your file system in real-time.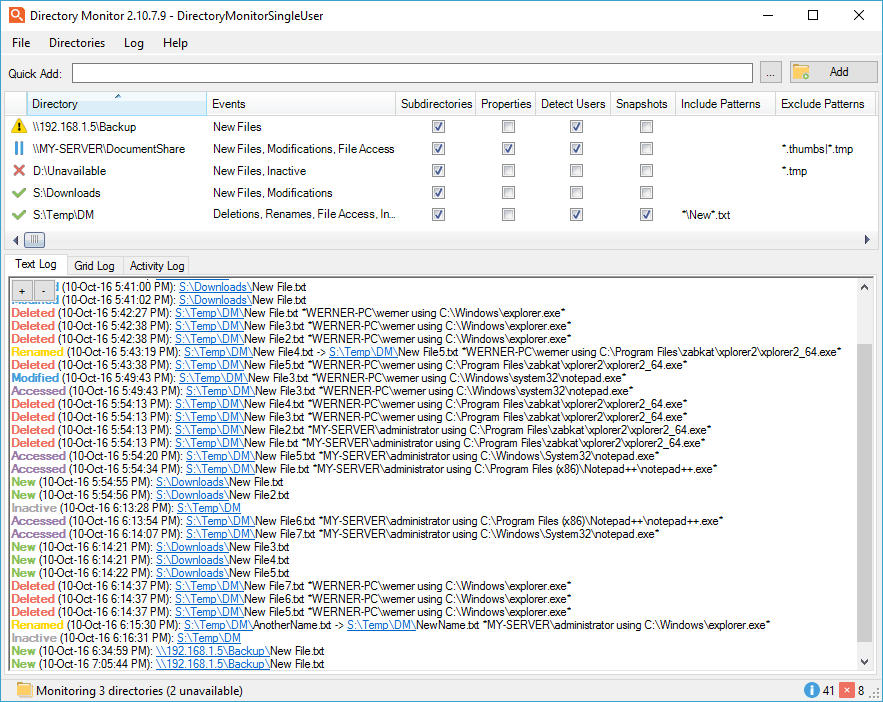 Source: DirectoryMonitor
Features
Monitors changes in real-time, so you can see actions as they occur.
Detects the users and applications that made changes to your files and folders.
Stays on top of changes even when the system is down and during network outages as well.
Provides text logs for future analysis.
Supports automation through scripts
Sends notifications in the form of emails, database records, and sound notifications.
Pricing
There are two versions – the basic one is free while the pro version comes at a price.
The price of the pro version is applicable for the entire lifetime and is as follows.
One machine – $149
Three machines – $299
10 machines – $749

Unlimited machines – $2499.
Download
Click here to download the basic version.
7. FolderChangesView
FolderChangesView from Nirsoft is a simple tool to monitor the chosen folders and disk drives. It lists out all the files that were created, deleted, or modified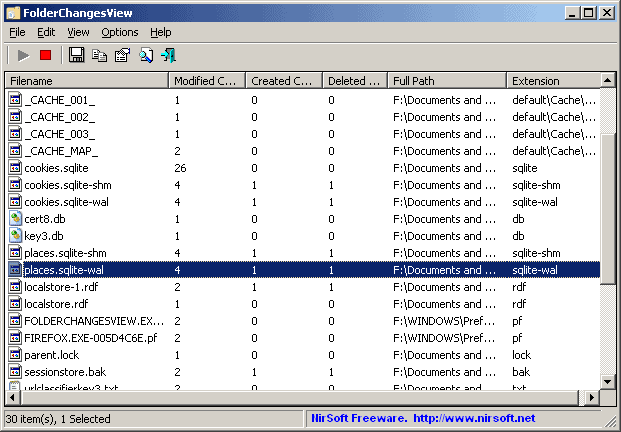 Features
Requires no installation or additional DLL files. All that you have to do is run the executable file to get started.
You can choose the specific folders or drives that you wish to monitor. This can be particularly handy if you have limited computer resources.
Works well with both local disk drives and remote network shares, as long as you have read permission for that specific folder.
You can export the file to many formats
Easily translates the log information to 21 other languages.
Pricing
100% FREE to use.
Download
Click here to download this tool.
Conclusion
To conclude, file server monitoring tools make it easy to track any changes to your files and folders.
The above-mentioned tools are simple to use and come with some powerful capabilities to give you complete control over your file system access and use.